You gotta hand it to Charles Wesley.  He has written the lyrics of so many songs of hope.  In the course of his career, he wrote the words to over 6,000 hymns, including many of our favorites.  Today, we'll look at the first of the ones he wrote which are often used at Christmas: Come Thou Long Expected Jesus.
I told you today's would be more uplifting and it's not just the way the words are written.  In most of the hymnals I have at home (a collection of sorts) the melody is known as Hyfrydol  which in Welsh means "cheerful."  See?  Even the tune is uplifting.
This hymn tune was written by Rowland Prichard and was originally published in a handbook accompanying Cyfaill y Cantorion (The Singers' Friend) which was a children's song book.  This hymn was reported to have been written before Prichard was even 20 years old.
The arrangement was done by Ralph Vaughan Williams who also did yesterday's Let All Mortal Flesh Keep Silence, demonstrating that he was a pretty versatile arranger of musical scores.
Come Thou Long Expected Jesus is used at Advent to describe what happened when the Christ Child was born and yet, Wesley intended that it would also be seen as anticipatory of Christ's return.  Because of that perspective, this traditional carol transcends Christmas and is used year-round as a reminder of the importance of keeping our eyes on the heavens, awaiting the return of our Lord, King, and Savior Jesus Christ.
Though only two verses, the theology is impeccable!
He is our strength.   Psalm 28:8 The LORD is the strength of his people, a fortress of salvation for his anointed one.
He is our consolation as God's people throughout the ages have looked to the comfort our Savior would bring.  One such person was Simeon who was promised he'd see the Christ before he died.  Luke 2:25 And behold, there was a man in Jerusalem whose name was Simeon, and this man was just and devout, waiting for the Consolation of Israel, and the Holy Spirit was upon him.  Again this theology points back to Isaiah 40:1-2 of God comforting His people–He is the Consolation of Israel!
He is the desire of every nation like we saw in Haggai 2:7 I will shake all nations, and the desired of all nations will come, and I will fill this house with glory,' says the LORD Almighty.
Charles Wesley also shows his preacher side when his words in verse 2 ring with the truth of God's mercy and grace, that apart from God we can do nothing to save ourselves.   God is so good!  While we were yet sinners, the Christ Child is born to deliver us!
I love this hymn!  Click link to listen to a version by Jody Cross with a modern chorus
Thought focus for today:  Having set the stage previously with the mournful words of other hymns of anticipation, reflect on how good the Good News really is!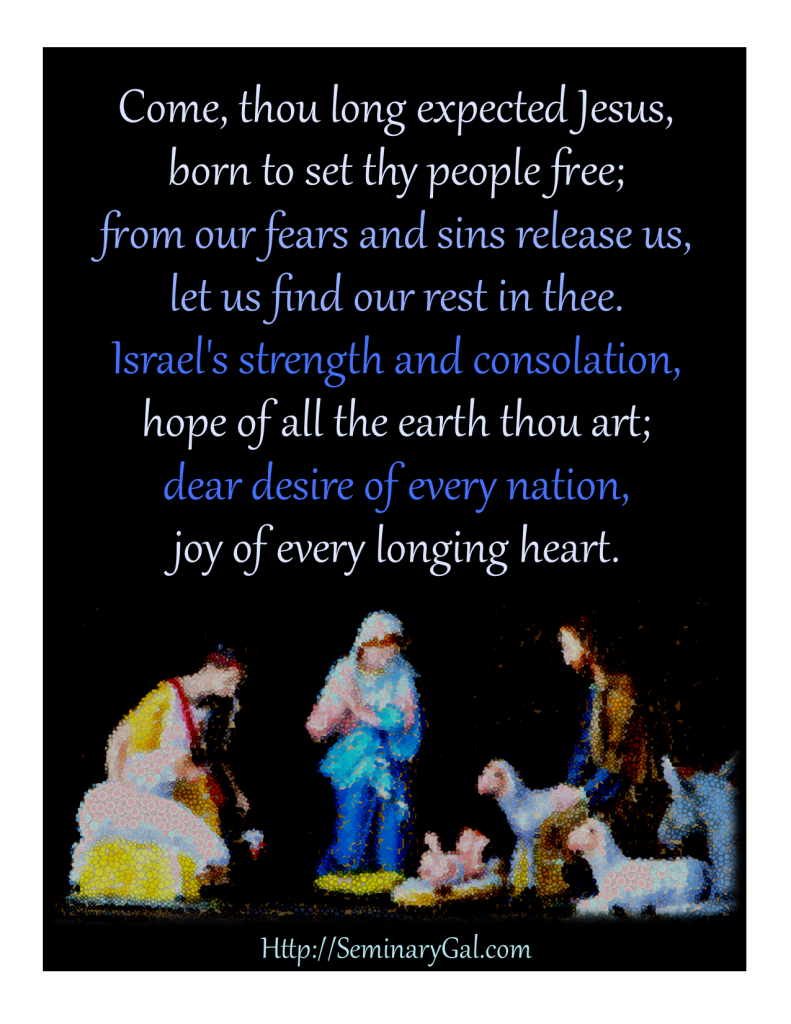 Come thou long expected Jesus,
born to set thy people free;
from our fears and sins release us,
let us find our rest in thee. 
Israel's strength and consolation,
hope of all the earth thou art;
dear desire of every nation,
joy of every longing heart.
Born thy people to deliver,
born a child and yet a King,
born to reign in us forever,
now thy gracious kingdom bring.
By thine own eternal spirit
rule in all our hearts alone;
by thine all sufficient merit,
raise us to thy glorious throne.
====
Carol Me, Christmas (2014 Advent Devotional Series) began November 30th.  By way of reminder, if you haven't signed up yet, you can receive these devotional studies in your email throughout Advent 2014 by entering your email address on the SeminaryGal.com home page in the space provided in the sidebar.  Or "Like" the SeminaryGal Facebook page to access them there.  If you like these devotionals, I'd really appreciate your letting others know so I can continue to spread the Good News far and wide.  Blessings to you, in Christ always, Barbara <><