Let's Carol Me, Christmas–telling the true Christmas story—with another historic hymn.   Let All Mortal Flesh Keep Silence is an ancient chant, a Cherubic Hymn and devotion based on words from Habakkuk 2:20, "Let all the earth keep silence before him".
Tomorrow's carol will be uplifting, but today's is another hymn written in a minor key which ought to give us pause about all this Merry Christmas stuff:  candy canes, hot cocoa, Santa, reindeer, joy, and happiness; partying, drinking toasts and going to cocktail parties in festive finery.  Like Charlie Brown, we can find ourselves getting depressed, finding that we're not happy, and end up thinking that we don't know what Christmas is all about.
Contrast the words of Let All Mortal Flesh Keep Silence with the lyrics to pop music like It's the Most Wonderful Time of the Year!  Let me be clear: There's nothing wrong with celebrating.  Let's make sure we're celebrating the right things.
Why are all these Christmas carols, these hymns of anticipation, so mournful sounding?
This past month, I've had the privilege of our family experiencing births of sons.  I have a grandson –a first grandchild, and I am now also a great aunt of a brand new baby boy.  Babies are to be celebrated, for sure!
But why is Jesus' birth notable? 
Because He was born healthy and alive—just another miracle of God in that sense?
No.  Jesus' birth is notable because it is beyond the miracle of who He was as a baby (God's Son). 
It's notable because of what He'd do as an adult and these anticipation hymns sounding mournful remind us that this was no trivial sacrifice of God. 
We needed a Savior so badly that God knew there was no other way.
Let All Mortal Flesh Keep Silence is a traditional carol, a chant, a hymn that powerfully points this out.  The chant itself probably dates back to around 275 AD with arrangements in Syriac.  The hymn as we know it was translated from the Greek by Gerard Moultrie and then Ralph Vaughan Williams gave it a melodic arrangement to the tune of Picardy which was a French medieval folk melody.
The message Let All Mortal Flesh Keep Silence is quite holy and might be modernized and made rather vulgar by saying that it's like God is saying to us,
Let all the earth shut up!"
Habakkuk records a response of God to the pride, greed, arrogance, plundering, destruction, and bloodshed of a world He created to exist in peace and love.  Mankind ruined it all.  Violence and idolatry form man's actions since the fall of man.  To a world such as this, God says the end is coming and the end of what we have done to this earth will come with it.  Wrath is on its way.
And yet, hidden in this passage of Habakkuk, we read "the righteous will live by his faith" (Habakkuk 2:4).
Habakkuk 2: 2 Then the LORD replied: "Write down the revelation and make it plain on tablets so that a herald may run with it. 3 For the revelation awaits an appointed time; it speaks of the end and will not prove false. Though it linger, wait for it; it will certainly come and will not delay.
4 "See, he is puffed up; his desires are not upright– but the righteous will live by his faith—
5 indeed, wine betrays him; he is arrogant and never at rest. Because he is as greedy as the grave and like death is never satisfied, he gathers to himself all the nations and takes captive all the peoples. 6 "Will not all of them taunt him with ridicule and scorn, saying, "'Woe to him who piles up stolen goods and makes himself wealthy by extortion! How long must this go on?' 7 Will not your debtors suddenly arise? Will they not wake up and make you tremble? Then you will become their victim. 8 Because you have plundered many nations, the peoples who are left will plunder you. For you have shed man's blood; you have destroyed lands and cities and everyone in them. 9 "Woe to him who builds his realm by unjust gain to set his nest on high, to escape the clutches of ruin! 10 You have plotted the ruin of many peoples, shaming your own house and forfeiting your life. 11 The stones of the wall will cry out, and the beams of the woodwork will echo it. 12 "Woe to him who builds a city with bloodshed and establishes a town by crime!
13 Has not the LORD Almighty determined that the people's labor is only fuel for the fire, that the nations exhaust themselves for nothing? 14 For the earth will be filled with the knowledge of the glory of the LORD, as the waters cover the sea.
15 "Woe to him who gives drink to his neighbors, pouring it from the wineskin till they are drunk, so that he can gaze on their naked bodies. 16 You will be filled with shame instead of glory. Now it is your turn! Drink and be exposed! The cup from the LORD's right hand is coming around to you, and disgrace will cover your glory. 17 The violence you have done to Lebanon will overwhelm you, and your destruction of animals will terrify you. For you have shed man's blood; you have destroyed lands and cities and everyone in them. 18 "Of what value is an idol, since a man has carved it? Or an image that teaches lies? For he who makes it trusts in his own creation; he makes idols that cannot speak. 19 Woe to him who says to wood, 'Come to life!' Or to lifeless stone, 'Wake up!' Can it give guidance? It is covered with gold and silver; there is no breath in it.
20 But the LORD is in his holy temple; let all the earth be silent before him."
As we listen to musical interpretations of this old carol by the Millennium Youth Choir and another version by Fernando Ortega, read through the words below.  All the while, remember how idolatry is commonplace in our day. People exalt money, race, vengeance, pride, and intellectual prowess.  Where are the headlines in our newspapers of God's Good News?  Ironic, is it not, that Black Friday, Cyber Monday, greed and materialism mark our culture's celebration of His Christ?  Newspapers report what kind of "good news" retailers might expect and what it means for our economy.  God's answer to that is pointed in the face of sinners: Let all the earth be silent.  (Shut your mouth.  Don't you get what this season is all about? You don't need stuff!  You need a Savior.)
Thought focus for today:  Consider the difference between Christmas Joy found in an Eternal Savior and the fleeting happiness of stuff.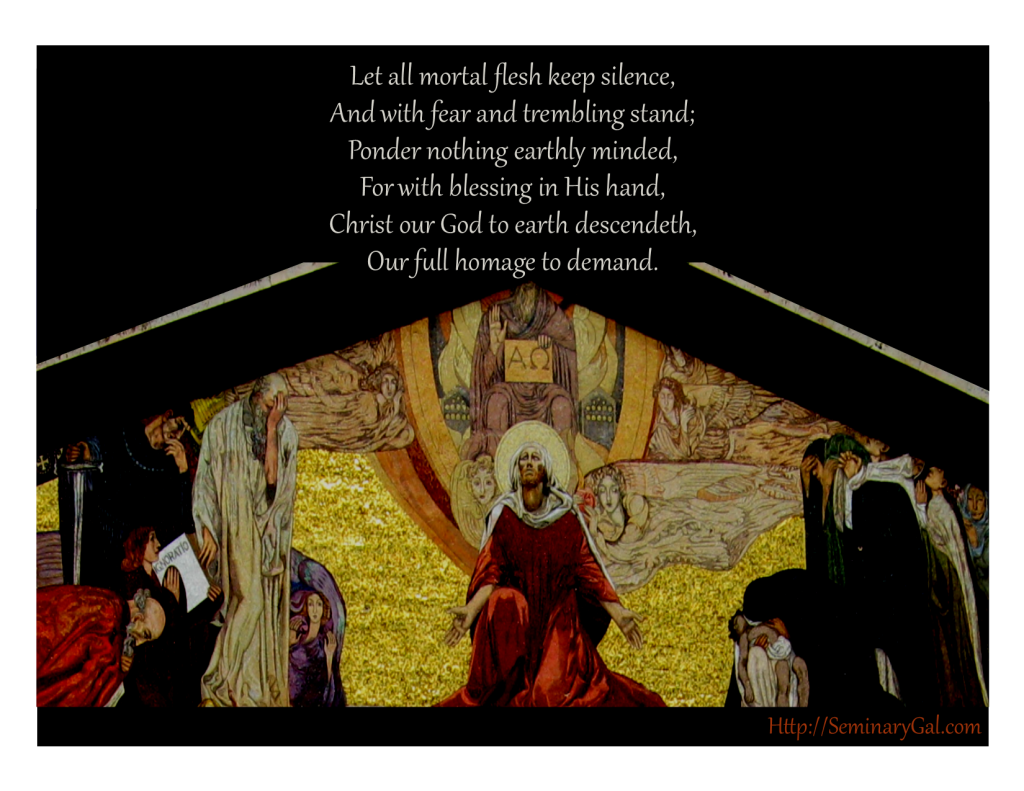 Let all mortal flesh keep silence,
And with fear and trembling stand;
Ponder nothing earthly minded,
For with blessing in His hand,
Christ our God to earth descendeth,
Our full homage to demand.
King of kings, yet born of Mary,
As of old on earth He stood,
Lord of lords, in human vesture,
In the body and the blood;
He will give to all the faithful
His own self for heavenly food.
Rank on rank the host of heaven
Spreads its vanguard on the way,
As the Light of light descendeth
From the realms of endless day,
That the powers of hell may vanish
As the darkness clears away.
At His feet the six wingèd seraph,
Cherubim with sleepless eye,
Veil their faces to the presence,                                                                                                                              As with ceaseless voice they cry
Alleluia, Alleluia
Alleluia, Lord Most High!
====
Carol Me, Christmas (2014 Advent Devotional Series) began November 30th.  By way of reminder, if you haven't signed up yet, you can receive these devotional studies in your email throughout Advent 2014 by entering your email address on the SeminaryGal.com home page in the space provided in the sidebar.  Or "Like" the SeminaryGal Facebook page to access them there.  If you like these devotionals, I'd really appreciate your letting others know so I can continue to spread the Good News far and wide.  Blessings to you, in Christ always, Barbara <><