You'd think that there was only one hymn about the angels making the A-list since they are so often all lumped together.  YouTube has many versions labeled Angels from the Realms of Glory that are actually Angels We Have Heard on High.  Oh well, just like Abraham Lincoln once said, "You can't trust everything you read on the Internet."
YouTube may seem all mixed up, but fortunately for all of us, the angels themselves were not the least bit confused about titles and the message they needed to communicate from God to the shepherds.
Luke 1:8 And there were shepherds living out in the fields nearby, keeping watch over their flocks at night. 9 An angel of the Lord appeared to them, and the glory of the Lord shone around them, and they were terrified. 10 But the angel said to them, "Do not be afraid. I bring you good news of great joy that will be for all the people. 11 Today in the town of David a Savior has been born to you; he is Christ the Lord. 12 This will be a sign to you: You will find a baby wrapped in cloths and lying in a manger." 13 Suddenly a great company of the heavenly host appeared with the angel, praising God and saying, 14 "Glory to God in the highest, and on earth peace to men on whom his favor rests."
Angels We Have Heard on High which is today's hymn in the Carol Me, Christmas (2014 Advent Devotional Series) tells this story from Luke.  The words are a translation by Englishman James Chadwick of a traditional French carol entitled Les Anges dans nos campagnes, (meaning "Angels in Our Countryside") composed by an unknown author.  Of course, God knows who the author is and the angels of heaven probably high-fived the author on his arrival for such a great portrayal of a high point in their angelic lifetimes.  The Savior was born.  That's a high point for sure!
1 Peter 1:10 Concerning this salvation, the prophets, who spoke of the grace that was to come to you, searched intently and with the greatest care, 11 trying to find out the time and circumstances to which the Spirit of Christ in them was pointing when he predicted the sufferings of Christ and the glories that would follow. 12 It was revealed to them that they were not serving themselves but you, when they spoke of the things that have now been told you by those who have preached the gospel to you by the Holy Spirit sent from heaven. Even angels long to look into these things.
They may have announced His birth, but regarding the saving, they didn't know how He was going to do it.  They longed to know.  Angels We Have Heard on High celebrates that birth announcement sent from God to a bunch of shepherds with the marvelous angelic refrain "Gloria in Excelsis Deo!" (which is Latin for "Glory to God in the highest" from Luke 1:14).  It's appropriate, therefore, that the refrain is not only memorable in words, but the tune to which this carol is sung would have this as a high point.  I'm sure it was for the angels.
The French carol tune Gloria, as arranged by American organist Edward Shippen Barnes, is how it is traditionally sung in the US.  In England, however, the other A-list angel song James Montgomery's Angels from the Realms of Glory from yesterday is sung to this tune with a few contour changes including the "Gloria in excelsis Deo" refrain instead of the "Come and worship" refrain.  I was fully prepared to blame the Mormon Tabernacle Choir on that error until I discovered that the King's College Choir did the same thing in their Lessons and Carols…and they were just the two leading the pack!  And now I understand: It's a British thing kind of like putting a bunch of u's where they don't belong: colour, armour, favour, etc.. (Just razzing my British friends.)
Anyway, the "Gloria in excelsis Deo" does a beautiful justice to how many of us imagine the angels singing that night of announcing the Savior's birth.
Tempting as it was to return to the Piano Guys for the sake of making a few friends really happy, do a modern a Capella version by Tonic Sol-fa that I'm not sure communicates that 1st century AD angel voice, or do the amazing tenor Andrea Bocelli singing it in Latin (but due to his viewers' stupid comments that I can't bring myself to give voice to that) instead, let's listen to this version by Libera (a boy's choir) and ponder our Thought Focus for Today.
Thought Focus for Today:  The angels have longed to discover how it is that men and women are saved.  They wouldn't find out until the Ascension of Christ. 
This beautiful praise "Glory to God in the Highest" is proclaimed by angels about God's plan to save mankind, not even angels.  Praising God for something good happening to someone else.  How does this make sense?  Do we often begrudge good things happening to someone we think is undeserving?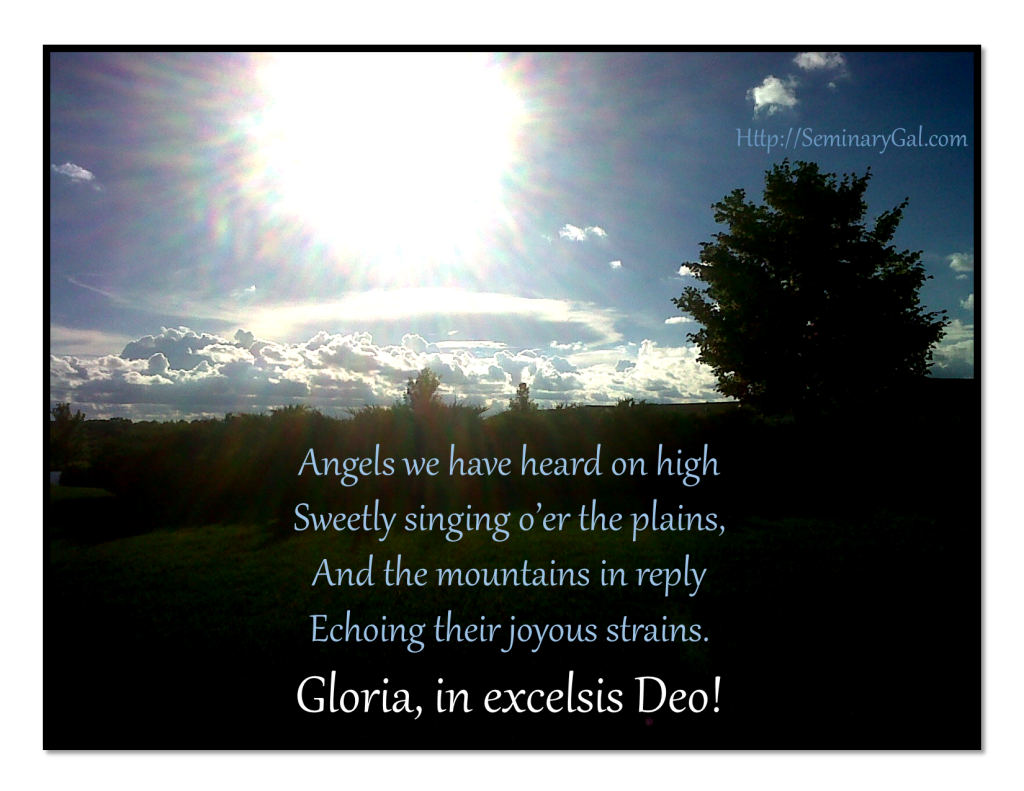 Angels we have heard on high
Sweetly singing o'er the plains,
And the mountains in reply
Echoing their joyous strains.
Refrain
Gloria, in excelsis Deo!
Gloria, in excelsis Deo!
Shepherds, why this jubilee?
Why your joyous strains prolong?
What the gladsome tidings be
Which inspire your heavenly song?
Refrain
Come to Bethlehem and see
Christ Whose birth the angels sing;
Come, adore on bended knee,
Christ the Lord, the newborn King.
Refrain
See Him in a manger laid,
Whom the choirs of angels praise;
Mary, Joseph, lend your aid,
While our hearts in love we raise.
Refrain
====
Carol Me, Christmas (2014 Advent Devotional Series) began November 30th.  By way of reminder, if you haven't signed up yet, you can receive these devotional studies in your email throughout Advent 2014 by entering your email address on the SeminaryGal.com home page in the space provided in the sidebar.  Or "Like" the SeminaryGal Facebook page to access them there.  If you like these devotionals, I'd really appreciate your letting others know so I can continue to spread the Good News far and wide.  Blessings to you, in Christ always, Barbara <><