It's easy to see why God wouldn't bless America.
But why would He give us an American dawn?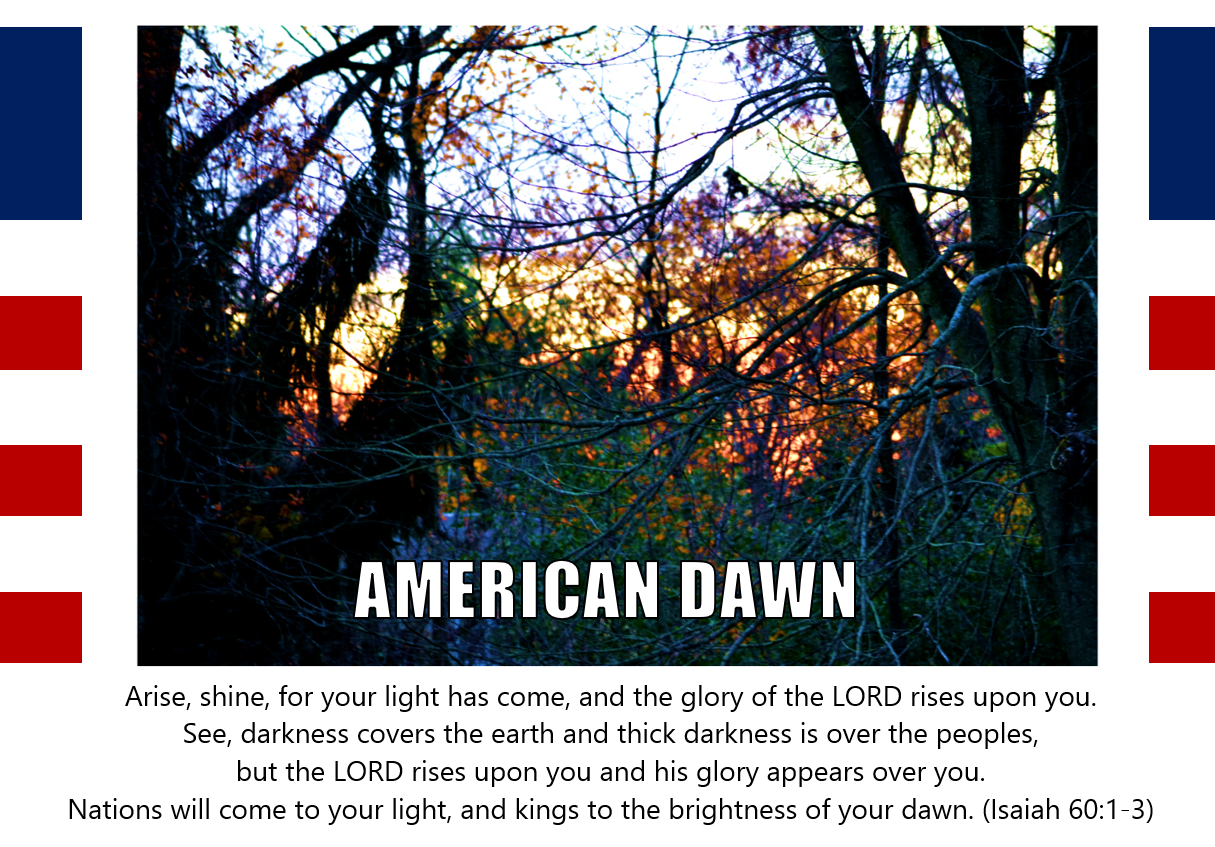 Let's continue to explore why God might bless America, in particular the Church in America…through the coronavirus pandemic. So far, we've seen (1) Purification, (2) Love of Freedom, (3) Following Christ, (4) a hope we can be that City on a Hill, and today's reason (5) Priorities of Sparrows and Pennies.
Meanwhile, when a crowd of many thousands had gathered, so that they were trampling on one another, Jesus began to speak first to his disciples, saying: "Be on your guard against the yeast of the Pharisees, which is hypocrisy. There is nothing concealed that will not be disclosed, or hidden that will not be made known. What you have said in the dark will be heard in the daylight, and what you have whispered in the ear in the inner rooms will be proclaimed from the roofs. I tell you, my friends, do not be afraid of those who kill the body and after that can do no more. But I will show you whom you should fear: Fear Him who, after your body has been killed, has authority to throw you into hell. Yes, I tell you, fear Him. Are not five sparrows sold for two pennies? Yet not one of them is forgotten by God. Indeed, the very hairs of your head are all numbered. Don't be afraid; you are worth more than many sparrows." (Luke 12:1-7)
Maybe this coronavirus response–from God's perspective–has been all about our soul-searching and rediscovering our priorities.
Maybe it's the journey. The self-reflection.
I couldn't say. I just don't know.
But here are my soul-searching Questions to Think About:
I have wanted to be cautious, but I haven't panicked or been afraid. Many people have. Some view the protective masks and gloves as their sole protection and a badge of good citizenship. What about you? Where does the line get drawn between caution and lack of faith? Where does God's responsibility end and mine begin?
I have found I like my conveniences…maybe a little too much. What about you?
I have found an intimacy in worship of Jesus because I haven't been distracted with all the hoopla. What about you?
I have missed being with people. What about you?
I have desired to speak life and hope and encouragement. But I've gotten discouraged. I've had a heavy heart on many different occasions. I've been grieved at how many bandwagon Christians there are, getting into mud-slinging like one who doesn't believe Jesus. What about you?
What if God was using this virus to reveal the real from the pretenders? "A new command I give you: Love one another. As I have loved you, so you must love one another. By this everyone will know that you are my disciples, if you love one another." (John 13:34-35) How are we doing?
We're all home, each alone or with limited few. What have we been saying in secret in the inner rooms? How have we treated our family?
If Alexa or our home security system was hacked and broadcast our words to a listening world, what would that world hear? Words of hope? Words of life? Words of complaint? Where is my heart?
I've been thinking about how God loves the sparrows knowing they're sold 5 for 2 pennies. He knows the numbers of hairs on your head. He values life. Do I?
He cares about your job and your income. He knows you need food and we live in an economic world that requires money. In the passage (above middle) He tells us who to trust and what to fear. How are we doing?
Living people can be rehired and economies reborn. Dead people won't be rehired. The only way they will rise to life is through resurrection. Have I made the most of these opportunities? How is the Church doing at pointing to larger concerns of eternal significance?
I've been thinking about information and ignorance. There's so much I don't know. I am in awe of God who can know everything and bear it. I'm weary with just the little bit I have. What about you?
Tomorrow I'll finish out with lessons I've learned from the coronavirus and the world-wide response. But for now…
Lord Jesus, fill me with Your Holy Spirit and awaken me to discipleship. May I learn from You and pass it to those who need to hear from You in these troubled times. When I fear, please comfort me. When our circumstances have us looking at our bank accounts, knowing our closed businesses mean workers without work, seeing empty streets and parking lots, sidewalks so desolate it feels like we're the last man on Earth…when we find ourselves worrying, Lord comfort us with Your peace. Help us to have a long-range perspective and faith as small as a mustard seed. Grow our faith and fill us with Your Spirit more and more as the Day of Your Return approaches. When You return, may I be found hard at work for You, faithful to the end, persevering for Your sake, trusting You because there is no other Name in heaven or on earth by which we will be saved. May the actions I take, the thoughts I have, the words I speak be a beautiful sound in Your ears and glorify You. In Jesus' Name. Amen.