It's easy to see why God wouldn't bless America.
But why would He give us an American dawn?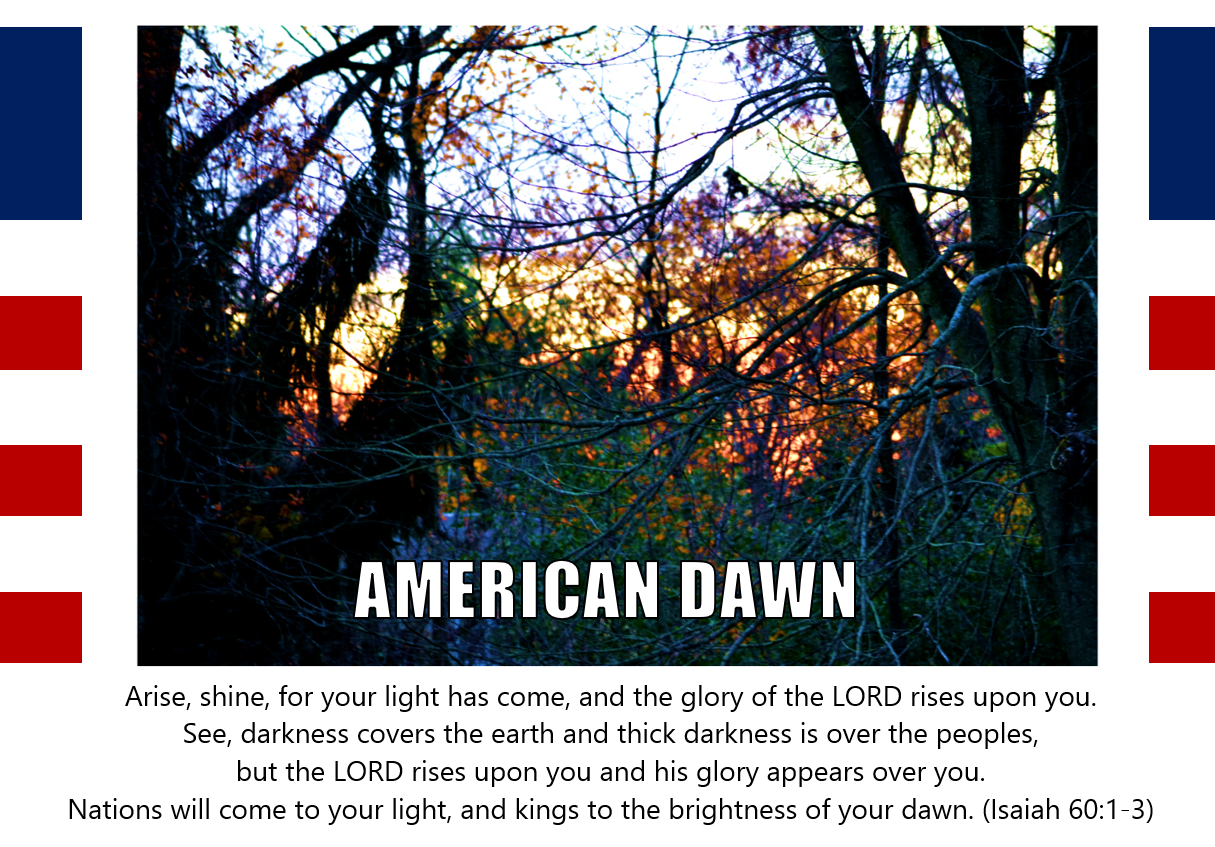 Let's continue to explore why God might bless America, in particular the Church in America…through the coronavirus pandemic. So far, we've seen (1) Purification, (2) Love of Freedom, and (3) Following Christ. Today, I'd like to look at a fourth reason why God might desire to bless America: City on a Hill.
"You are the light of the world. A city set on a hill cannot be hidden."
Matthew 5:14
Most of us see historic America as a land of opportunity, of freedom, and a refuge for those who have been persecuted, particularly in religious terms. It's been a safe harbor for those who want to freely practice their Christian faith.

In the coronavirus pandemic, with our worshiping Christ largely behind closed doors, Americans have been blessed to see a glimpse of what the persecuted Church knows every Sunday, week in…week out. And every day in between.

Our enemy, our adversary, Satan, and all that is evil tries to bury the Church, extinguish her light, and block her ability to shine in our witness to our Savior Jesus Christ.

In the verse from the photo above, the light of witness is prominent. "Arise, shine, for your light has come, and the glory of the LORD rises upon you. See, darkness covers the earth and thick darkness is over the peoples, but the LORD rises upon you and his glory appears over you. Nations will come to your light, and kings to the brightness of your dawn" (Isaiah 60:1-3).

If we're honest, America had lost her Christian witness many ways and times, even now has been such a time. On the world stage, we've blinked blindly in collective darkness along with the rest of the world. We've loved and hated but not in godly ways. We've loved what is self-satisfying and evil. We've had no shame in hating. Even in our cursing God. We've failed to address the evil within our midst and shielded our eyes to the evils elsewhere. We've exalted ourselves and cared little about others, about other nations, and we have engaged in national behavior that has not been a light of witness to God or to the reasons Jesus came, died, and rose from the dead.
Is God is using a virus to call us back to Himself
…and to usher some of us home?
Is now an American dawn and a coming revival?
Not just as Americans, but as a City on a Hill, a light of nations.
Sure, there have been daily doses of darkness, a morbid obsession with death. The death count and infected peoples are recorded, monitored, assessed, and charted. That's the panorama of the pandemic. But look closely and maybe we see individuals coming to grips with mortality and what it means. Maybe we see individuals–all of whom matter to God–seeking the light of answers to eternal questions. We've had a hard reset of our priorities–who and what we worship–a re-learning sacrificial love and the joy of work and recreation in balance. We've rediscovered our need and love for our Savior. The light of God rising.
Questions for thinking:
How does death reorient our thinking from the superficial to the significant?
How does a worldwide threat from an invisible enemy mirror the spiritual battle going on around us and create an opportunity for the Church to share the Gospel of hope?
The United States–with its vast economic engine employed full-throttle to prepare for battle in producing therapeutics, ventilators and other protective equipment–isn't producing offensive weapons, only defensive. We are making these available to other countries. In what way does this help nations to come to the light, to see the brightness of our dawn in Christ, and the hope of His gospel?
With online sermons/services–even those our President has highlighted–and many people stuck at home, but seeking answers and a message of hope, soon the Church will see new faces in the pews. Have we experienced enough personal renewal to welcome new people and show them the hope we know?
Lord God, Almighty Father, please help us to remember the lessons of the pandemic. Our reliance needs to be first upon You. You are our Light and salvation. You are our eternal hope because You conquered death and experienced the wrath our sins deserved. A justified wrath of God that would have been ours. Remind us not to fear what man can do but to have a holy fear of You. May that fear be respect and childlike joy that–though we are sinners–yet You would welcome us as our Father in heaven. Give us sensitive hearts to those You have newly called and delivered, to do as You have asked: make disciples. May we continue to experience purification so that we will embrace the work You have done. That we will know the joy and the responsibility when we see the secret harvest You have been doing by a Church planted underground, now visibly bearing fruit that will last. It is to Your glory that we produce much fruit. Gladly I am Your harvest worker and humble servant of Christ. I offer You praise and all glory in the mighty Name of Jesus! Amen.