It's easy to see why God wouldn't bless America.
But why would He give us an American dawn?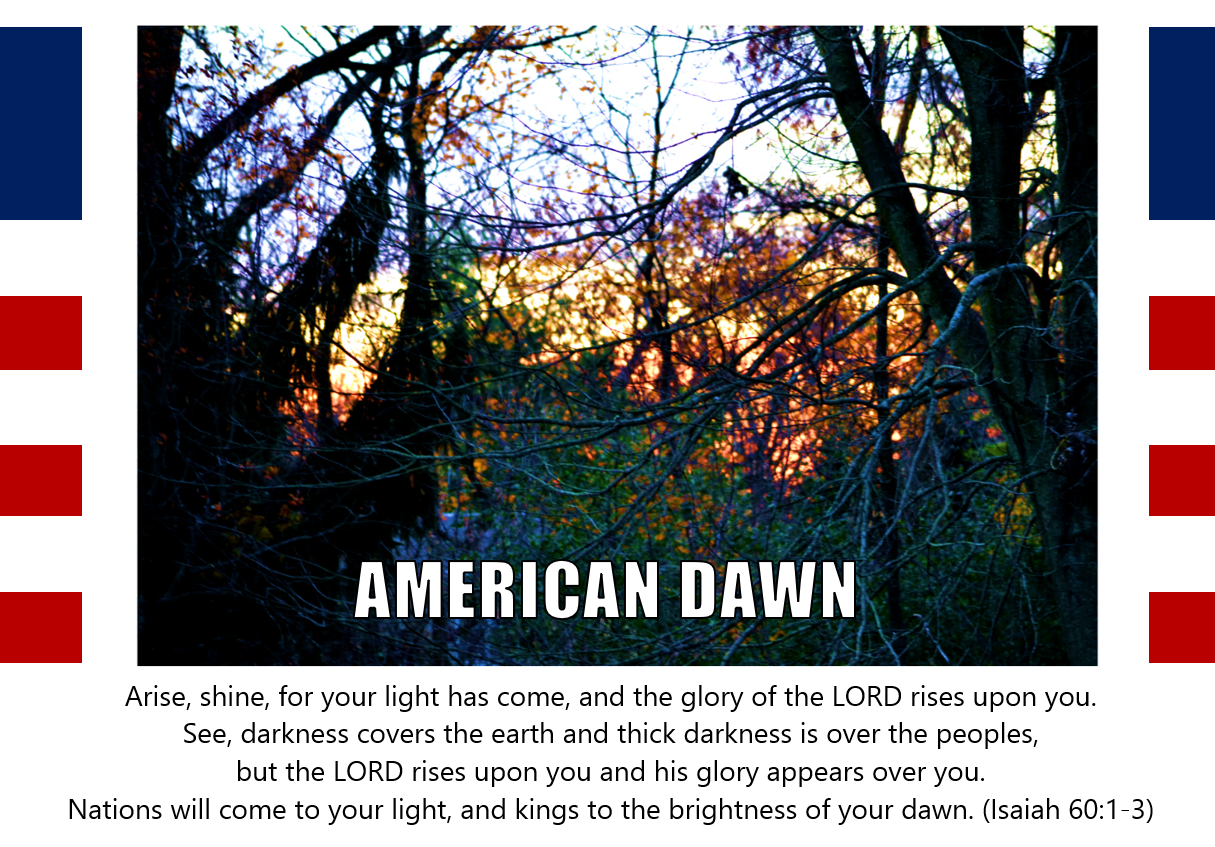 Let's continue to explore why God might bless America, in particular the Church in America…through the coronavirus pandemic.
So far our reasons have been as ongoing purification of God's Church and His people, and for our respecting freedom. Today, I'd like to look at a third reason for God to bless America: the open desire of many Americans to follow Christ.
I wish I could say that following Christ is easy. It's not. I wish I could say that following Christ is simple to explain in these frightening times to those whose walk is new or marginal, troubled or tired, those afraid for their future, or who are observing from the outside. It's hard to explain quite frankly, especially when we hardly understand it ourselves.

Faith, a trusting in God, is every bit as hard to do as to explain. The reasons are often confusing and don't make sense. Trusting God might be simple given that it is more effective (that's what Scripture says). It is far less within our control than trusting one's own self, our own judgments, our own information, and looking for our own way through the thicket.


The coronavirus is a really big thicket and everyone has more opinion than available knowledge.
Truth be told: I challenge my heart often about my motivations for wanting the economy open ASAP
My heart WANTS to say it's total compassion…because I've weighed my understanding of harm to those who might die versus the ongoing danger to those suffering deeply in economic terms and have concluded (with facts available to me) that it's all overblown. We can do both: keep people safe and go back to normal…just like a light switch.

My mind QUESTIONS that since I have no specific word from God to rely on. He doesn't talk about THIS plague in clear terms or tell us how it ends. All I have is incomplete information from imperfect sources and the infallible Holy Spirit to chop through the thicket on this old heart of mine so I can see the dawn when it eventually rises over the pile of dead brush.

You see, I know one person in my sphere who has succumbed in death to coronavirus. I'm confident he has entered glory. I know people whose businesses are suffering. They aren't rich people. Many live from paycheck to paycheck. My heart breaks for both those who have lost loved ones and those whose life savings and dreams are at risk of dying on the vine.

My hands want to HELP. So, I buy things online and encourage curbside. We have essential businesses (small family businesses still working with masks and protective gear) engaged at work because they can and we're able. Once the economy opens, I'll be there to support those who are struggling to recover in other businesses too.

As people in the Church, we do what we can there as well. Cheerfully giving so the Church can do its job of caring for people, too.

More than anything, though, I want to follow Christ.

Yeah, that Guy who says to deny myself, pick up my cross daily, and follow Him. "Whoever wants to be my disciple must deny themselves and take up their cross and follow me. For whoever wants to save their life will lose it, but whoever loses their life for me and for the gospel will save it. What good is it for someone to gain the whole world, yet forfeit their soul? Or what can anyone give in exchange for their soul? (Mark 8:34-37).

The same One who tells me I cannot serve two masters. "No one can serve two masters. Either you will hate the one and love the other, or you will be devoted to the one and despise the other. You cannot serve both God and money. "Therefore I tell you, do not worry about your life, what you will eat or drink; or about your body, what you will wear. Is not life more than food, and the body more than clothes? Look at the birds of the air; they do not sow or reap or store away in barns, and yet your heavenly Father feeds them. Are you not much more valuable than they? Can any one of you by worrying add a single hour to your life?" (Matthew 6:24-27)

The same God who tells me to trust (John 14:1), to have faith (Mark 11:22), to pray for daily bread (Luke 11:3) that He will provide (Luke 12:22-31), to rest in Him (Matthew 11:28-30), to overcome (1 John 4:4-10), to persevere to the end (Matthew 24:12-14), and to learn from His example (1 Peter 2:21).
What would Jesus do?
I suspect His end goal is far beyond what's in the news.
More than masks, ventilators, therapeutics or vaccines.
More than reopening an economy.
Questions for thought about what it means to follow Jesus:
Would Jesus be speaking words of life, hope, and patient endurance, or griping with words of discouragement, impatience, complaint, and accusation? What does it mean to follow Christ?
If Jesus were a reporter at news briefings, what kind of gotcha would He do? Don't worry, gotcha covered with My blood? Gotcha name written on My hands? Gotcha held tight where no one can snatch you out…eternally? Gotcha protected under My wings?

If Satan were a reporter at news briefings what gotcha questions would be designed to steal, kill, and destroy (John 10:10 )?
What results from following Christ?
How has this pandemic highlighted the contrast of who we follow and given Christians a chance to offer His light in the world's darkness. In the next installment, we'll explore this more, but how can we…by following Christ…display Him to a watching world?
Dear Lord Jesus, please let me follow You in everything I do and say. May I take to heart that I may be the only Bible some will ever read. May the words I speak be encouragement and hope, pointing always to You as the only source for all eternity. May I trust in You when the times are dire. May I trust in You when death tries to steal, kill, and destroy. May I trust that all events will work together for good (in an eternal sense) for those who love You. May Your Holy Spirit build up this nation again so we might be Your light of freedom and hope to a world in decline and despair. May many be drawn to You as they see the faith of Your people. May we devote ourselves in prayer so that we may have joy even in suffering and hold on while You advance Your kingdom. I thank You, Lord, that You are in the restoration business. You reclaim. You renew. You give new birth and new life. May Your Kingdom prosper and grow for our good and Your glory. Amen.