Some may think, "You know, God could have prevented all that. Why didn't God stop Adam and Eve before they ate?" Why didn't He tape their mouths shut, tie their hands or even put a big fence around that tree if He didn't want them to eat "the forbidden fruit"? Probably the shortest answer is that coercion is incompatible with freedom. Love doesn't coerce. It frees.
In Paul's first letter to the Corinthians, he offers this beautiful tribute to the gift of love: 1 Corinthians 13:4 Love is patient, love is kind. It does not envy, it does not boast, it is not proud. 5 It is not rude, it is not self-seeking, it is not easily angered, it keeps no record of wrongs. 6 Love does not delight in evil but rejoices with the truth. 7 It always protects, always trusts, always hopes, always perseveres. 8 Love never fails.
Love invites dependence and obedience. Jesus' own words tell us about the freedom God gives, John 8:31 To the Jews who had believed him, Jesus said, "If you hold to my teaching, you are really my disciples. 32 Then you will know the truth, and the truth will set you free."
This invitation to obey God's command—in the Garden and today–is grounded in three Image-bearing characteristics: freedom, rational thought, and love. To each one among us since the days of Adam and Eve, Jesus appeals to our relationship, John 8:34 Jesus replied, "I tell you the truth, everyone who sins is a slave to sin. 35 Now a slave has no permanent place in the family, but a son belongs to it forever. 36 So if the Son sets you free, you will be free indeed."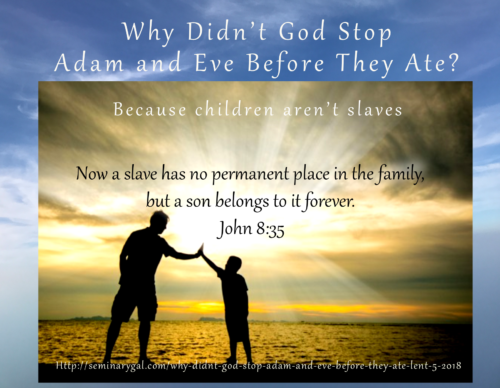 To questions "Why?" in our devotional series, the priest in The Life of Pi offers the most pat Sunday School answer: "All you have to know is that He loves us." While true, it's deeper than that.
Go deeper with this food for thought:
Do you know the freedom to choose a relationship of love and obedience to God? What are you doing with your freedom?

If God prevented Adam and Eve from accessing the tree, what would happen to that freedom, day after day? What would happen to love?

What kind of rational thought and choice would Adam and Eve actually experience?

How was God's choice to let Adam and Eve experience genuine freedom the most Image-honoring choice God could make even knowing they'd choose poorly?

How did God choose to redeem repentant sinners, showcase forgiveness, and perfectly display His love?
Tomorrow's question: "Why Didn't God Just Punish Satan? He Started It."
===
For Lent 2018, we'll explore the questions of Pi and Chi (the Greek letter beginning the word Christos, which means Christ, Messiah, the Anointed One). We'll ask and answer the question "Why?" as we discover the uniqueness of Jesus Christ. Join me for the 40 days of Lent which began February 14, 2018 by liking Seminary Gal on Facebook or having these devotionals sent to your email box which you can do via the sign-up on my Home page. Thank you for blessing me with this opportunity to study together the Word of God.
===
Acknowledging that former years' devotional series remain popular: