While God doesn't tell us what He was doing prior to creating the heavens and the earth and all the living creatures, God tells us how He feels about what He created: Genesis 1:31 God saw all that he had made, and it was very good.
God looks for the good and loves what He has made. Psalm 145:17 The LORD is righteous in all his ways and loving toward all he has made.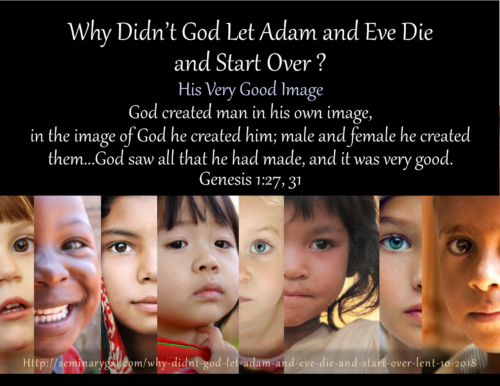 ***
To completely destroy what was very good (all His Image-bearers) because many humans chose to do wrong—well, it's a classic case of two wrongs don't make it right. God would not destroy all His Image-bearers because God is always right. He had something far better in mind:
Redemption! He would redeem what was originally very good out of what had turned terribly wrong with Adam and Eve's choices.
It's both redemption and purification. In doing so, He would highlight the magnitude of His love, grace, and forgiveness, something the young boy Pi in our devotional series for Lent 2018 finds both curious and compelling.
It's truly amazing how God never excuses sin or sweeps it under the cosmic rug. He still retained His holiness in the face of sin by paying the price…Himself.
Food for thought:
Have you ever thought about how God's love was magnified because of sin? How it gave God the opportunity to showcase His beauty?

Romans 5:20 But where sin increased, grace increased all the more, 21 so that, just as sin reigned in death, so also grace might reign through righteousness to bring eternal life through Jesus Christ our Lord.

Consider all the world religions you know about. Do any of them solve the sin problem without diminishing sin to just a choice or making it possible for man to earn his way back as penance?

If God didn't want to start over, then why did the flood happen? Hmmm? Why did He destroy the earth once before?

Genesis 6:5 The LORD saw how great man's wickedness on the earth had become, and that every inclination of the thoughts of his heart was only evil all the time. 6 The LORD was grieved that he had made man on the earth, and his heart was filled with pain. 7 So the LORD said, "I will wipe mankind, whom I have created, from the face of the earth– men and animals, and creatures that move along the ground, and birds of the air– for I am grieved that I have made them." 8 But Noah found favor in the eyes of the LORD."

Why won't He again?

Genesis 8:21 The LORD smelled the pleasing aroma and said in his heart: "Never again will I curse the ground because of man, even though every inclination of his heart is evil from childhood. And never again will I destroy all living creatures, as I have done."

How does "starting over again" with righteous Noah and his family maintain the promise made to Adam and Eve in cursing the serpent (Genesis 3:15) and fulfill the blessing of God's Image filling the earth? When is starting over, not really starting completely over?
Tomorrow, we rest for the Sabbath which is not included in the 40 days of Lent. Join me again on Monday for Why Does God Still Love Us After All That?
===
For Lent 2018, we'll explore the questions of Pi and Chi (the Greek letter beginning the word Christos, which means Christ, Messiah, the Anointed One). We'll ask and answer the question "Why?" as we discover the uniqueness of Jesus Christ. Join me for the 40 days of Lent which began February 14, 2018 by liking Seminary Gal on Facebook or having these devotionals sent to your email box which you can do via the sign-up on my Home page. Past devotionals can be accessed via the archives. Thank you for blessing me with this opportunity to study together the Word of God.
===
Acknowledging that former years' devotional series remain popular: