The Christian life is filled with things that don't seem consistent with God's love and sovereignty. How is a Christian to act when evil seems to win? It looks so unjust. We can feel like the prophet Jeremiah who complained to God:
You are always righteous, O LORD, when I bring a case before you. Yet I would speak with you about your justice: Why does the way of the wicked prosper? Why do all the faithless live at ease? (Jeremiah 12:1)
Why isn't it total cause-and-effect and completely predictable in this world? Do good, receive good. Do evil, reap the bad fruit that you have sown. Why instead does it seem the harder you try to follow God, the more bad stuff happens? It can certainly feel that way sometimes.
God has some Do's and Don'ts for the Christian facing that question.
Do not fret because of evil men or be envious of those who do wrong; for like the grass they will soon wither, like green plants they will soon die away. Trust in the LORD and do good; dwell in the land and enjoy safe pasture. (Psalm 37:1-3)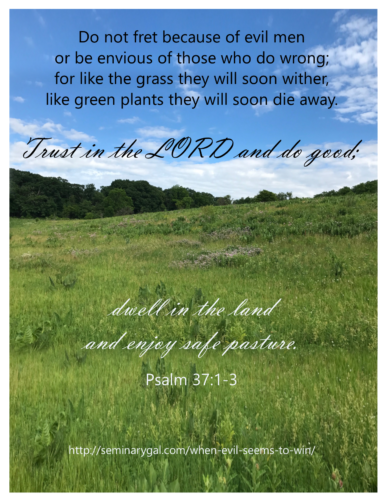 God's answer is remarkably simple:
Don't look at them. Look to God.
Don't fret. Don't envy.
Don't adopt the short-term solution and join them, because time is fleeting. Instead, take the long view when evil seems to win and realize it's possible for evil to be winning the battle but losing the war.
Evil has its day and its purpose is to show us God's justice when it happens.
For when it's Game Over, those who have trusted in the LORD and continued to do good, they will dwell continually in God's kingdom and enjoy His goodness forever.