The disciples asked, "Who then can be saved?" Jesus looked at them and said, "With man this is impossible, but with God all things are possible." (Matthew 19:25-26) What is impossible for man is possible for God. What is immovable and carved in stone for humanity is no challenge for the power of the Almighty. It's the Mystery of the Immovable Object as we conclude our look at 1 Corinthians 15 and What it Means to be Resurrected.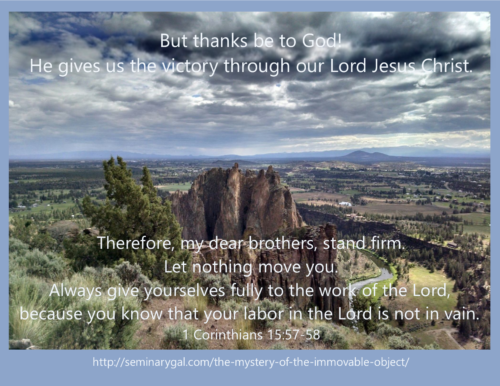 1 Corinthians 15:48 As was the earthly man, so are those who are of the earth; and as is the man from heaven, so also are those who are of heaven. 49 And just as we have borne the likeness of the earthly man, so shall we bear the likeness of the man from heaven. 50 I declare to you, brothers, that flesh and blood cannot inherit the kingdom of God, nor does the perishable inherit the imperishable.
It's impossible for us. We are the immovable object. Created in God's Image, born into man's image after Adam, we remain Adam's offspring, and sinful ones at that…apart from the work of Christ.
Our flesh and blood likeness to Adam isn't enough to get us into heaven no matter how well we live as humans. Only the actions of God can move us, change us, redeem us so that we're fit for heaven.
1 Corinthians 15:51 Listen, I tell you a mystery: We will not all sleep, but we will all be changed– 52 in a flash, in the twinkling of an eye, at the last trumpet. For the trumpet will sound, the dead will be raised imperishable, and we will be changed.
Some will not "sleep" (that is, die) for some will be alive when Jesus returns. It could be our generation, it could be tomorrow, or it could still be years in the future. No one knows apart from God the Father. But we're told to be ready. Not by having accumulated a Do-It-Yourself-Salvation portfolio of good works and good behavior, but by having acknowledged that apart from Christ we are immovable and dead as a doornail. Christians will be changed. God moves the immovable object of His love and saving grace.
1 Corinthians 15:53 For the perishable must clothe itself with the imperishable, and the mortal with immortality. 54 When the perishable has been clothed with the imperishable, and the mortal with immortality, then the saying that is written will come true: "Death has been swallowed up in victory." 55 "Where, O death, is your victory? Where, O death, is your sting?" 56 The sting of death is sin, and the power of sin is the law. 57 But thanks be to God! He gives us the victory through our Lord Jesus Christ. 58 Therefore, my dear brothers, stand firm. Let nothing move you. Always give yourselves fully to the work of the Lord, because you know that your labor in the Lord is not in vain.
So Paul reminds us to be immovable, unshakeable, undeterred in our devotion to Christ. Labor as if it all depends on us, believe as if it depends completely on Him, for it does. We are the immovable object that only God can move from death to life as we experience what victory over death looks like and what it truly means to be resurrected.