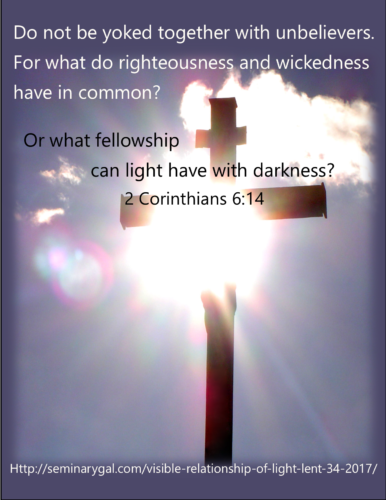 Throughout this 2017 Lenten devotional series, Light: There's Nothing Like It, we've seen that light is an amazing creation and a very apt metaphor for everything from witnessing to righteousness, from the hope of the Gospel to the assurance of salvation, and from the Christian community's relationship to the world to that same dark world's relationship to Christ Himself. Light's relationship to darkness is as different as day and night.
In a passage of Scripture that's often used in characterizing the relationship of people considering marriage, the Apostle Paul writes,
Do not be yoked together with unbelievers. For what do righteousness and wickedness have in common? Or what fellowship can light have with darkness? (2 Corinthians 6:14)
We're approaching Palm Sunday and the triumphal entry of Christ into Jerusalem. The light of Christ was invading the very spiritual epicenter where the darkness of evil would stage its most desperate–and most futile– attempt at overcoming the Son of God. That battle was waged at the Cross, but Christ would have the victory!
John 2:23 Now while Jesus was in Jerusalem at the Passover Feast, many people saw the miraculous signs he was doing and believed in his name. 24 But Jesus would not entrust himself to them, for he knew all men. 25 He did not need man's testimony about man, for he knew what was in a man.
Jesus knew that relationship isn't about what others can do for us or what we can do for them. True relationship of light to darkness is that light invades and permeates. Light changes the darkness and when we encounter Christ, we come to understand the ground is level at the foot of the Cross. No sinner could save himself; no sinner is beyond God's ability to save. Jesus is the Son of God and for us to have a relationship with Him, we must be changed, born again.
Fun Fact of Light: It radiates, it refracts, and it reflects. That is the principle behind sci-fi cloaking devices, something that is on its way to being reality at certain wavelengths of light. According to the MIT Technology Review, "To become invisible, an object must do two things: it has to be able to bend light around itself, so that it casts no shadow, and it must produce no reflection. While naturally occurring materials are unable to do this, a new class of materials called metamaterials is now making it possible."
In fact, a firm in Israel has been working on such a metamaterial, a nanotechnology, a so-called "stealth paint." According to the Israel National News, it has far more uses than just military ones, but "This is how it works. Any object coated with the paint is enveloped by the nanotechnology used to produce the material. When electromagnetic waves are sent out by radar to sense whatever is entering its defense field, those radio waves are absorbed by the painted object, and then subsequently released back into the atmosphere as heat energy.
"The changed electromagnetic waves return to their source which would normally register the distance of the object, as with sonar in a medical ultrasound test, but there aren't enough of them to make an identification on the radar screen."
For Further Thought:
In what ways will a Christian be different for encountering the Light?

In what ways are we the same?

For insight, read

Romans 12:2 Do not conform any longer to the pattern of this world, but be transformed by the renewing of your mind. Then you will be able to test and approve what God's will is– his good, pleasing and perfect will.

How does our ability to absorb and reflect the light of Christ make us no longer part of this dark world?
Father, thank You for knowing what's in our hearts and loving us anyway. Thank You for sending Jesus while we were still sinners, and because we were sinners without hope. Thank You, Jesus, for Your death on the Cross, for paying the price of our redemption. Thank You, for the transforming power of Your Holy Spirit, making us a whole new creation. May we reflect Your Light and Your glory. Amen.