As we continue looking at the Ten Undeniable Truths of Womanhood, we come to the second one: No man can teach a woman what is the truth of womanhood, even Christian womanhood. No man knows.
I'm rather sick of John Piper's view of womanhood.  There.  I said it.
Men who profess to tell women what womanhood is aren't telling you the total truth.  Because they don't know what it really is, by experience.  By analogy, a person who has read the whole Bible and can recite it from memory isn't a Christian unless he has the personal experience of Christ.  Knowing is a word of intimacy and experience, not just book knowledge.  Womanhood, like Christian, is a word of BE-ing, a word of experience.
John Piper and Wayne Grudem (two renowned examples for those of you who have been spared these theological men who tell theological women what they can do) have written many good things and I have enjoyed their perspectives on all kinds of theological points.  I own their books.  I like their theology overall, but both have done a great disservice to God's maidservants by speaking theory as if it's reality.  They assert dogma instead of leaving the interpretation with God in One-on-one ministry to Christian women who have the Holy Spirit, just as Christian men do.
The idea that Christian women cannot be theologically trained to read the Bible accurately, to hear the Shepherd's voice clearly, and to respond to the Holy Spirit in total obedience by doing what Drs. Piper and Grudem personally disapprove of is silly. It doesn't make Christian women wrong or sinful.
One of my favorite scenes from The Return of the King, the final of the original trilogy of The Lord of the Rings has a scene lots of women like.  I'm not really into orcs and battles, but when Éowyn, a noblewoman/shield-maiden of Rohan (who sneaks into the battle by disguise) slices off the head of the Nazgûl which was ready to feed on her uncle's flesh while he still lives, we all cheer her heroic actions.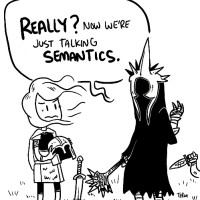 Then Éowyn's dialogue continues with the Witch King of Angmar as King Théoden, Éowyn's uncle, lies dying:
The Witch King of Angmar:   Pathetic warrior!
Éowyn of Rohan:   I will kill you if you touch him!
The Witch King of Angmar:   Kill me! Thou fool! No living man can slay me!
Éowyn of Rohan:   I am no man! You look upon a woman!
 [stabs him]
Yeah.  We all like that part.  It doesn't make it any less courageous or less laudable because it was Éowyn who tried to preserve her uncle's life instead of some man who was less pathetic-looking as a warrior in the eyes of the enemy.
Women who follow Christ will follow Him wherever He goes.  Even into places where women aren't particularly welcome.  They do battle against the enemy (the devil) because they love the Father and they love Jesus.  Ironically, in all three persons of Triune perfection, God has fewer difficulties with women following the Great Commission as leaders and teachers than some of Jesus' male followers historically have.  Jesus had no problem with women serving Him in varying ways, even in ways frowned on by His disciples.
It's because Jesus alone is the Son of God.  And being God, Jesus is the only Man who had the mind of God even while He was male in His humanity.
The mind of God is what Drs. Piper and Grudem do not have.  By reading the Word and importantly having the Holy Spirit's presence, they can have the mind of Christ for their lives, but they cannot know what God's plan is for me or any other woman.  I hardly know myself since I don't have the mind of God either.  It requires constant checking with the Holy Spirit and lots of Bible reading and prayer to even have the mind of Christ.
Yes, all our actions must be held to the standard of Scripture and in areas where things are open to interpretation, it's best to leave that interpretation to God.  Of course men can teach what the Bible's words are and even try to interpret based upon precedent and context.  But those are poor substitutes for the full mind of God, especially where someone else is concerned.  And just as no man can tell me what God is saying to me through His Holy Spirit, I'm in no place to tell them what God is saying to them.  Each of us must run our own race.  Each of us will be held accountable by God for the Truth and what we did with it.
Research: Research the connection between the Word, spiritual discernment, obedience, and love.
Reflect:
What is the difference between knowing the thoughts of God and having the mind of Christ?
Is anyone able to discern another person's calling?
How does the Holy Spirit instruct the believer?  Does it differ male to female?
What personality traits and human behaviors might cause any individual to claim to know how the Bible applies specifically to another person because she is female?
What kind of personality traits and human behaviors cause people to steadfastly claim they are right about someone else's calling and to chronically deny any possibility of being mistaken?
To what degree have men and women been influenced by cultural factors such as feminism?
How does the Church remain pure in the face of cultural influences?
Will a woman's disobedience to God be any less offensive to Him because any regular male (Christian or otherwise) told and taught a woman not to do it?
Respond: 
If you're a man reading this, pray about where the line exists between spiritual judgments and their application to others, between the words of Scripture and their interpretation, and between obedience, civil disobedience, and sin.  Ask God to reveal His view of the Church and Kingdom growth and how men and women interact as children of the same family of God.
If you're a woman reading this, pray about whether your view is based upon the Spirit of God, all His wisdom, and careful instruction in the Word of God… or whether your desires flow–even a bit–out of a feminist's cheerleading of women and women's causes.
Pray to know God's calling for your life.  Read the Bible and pray without ceasing.  Confess any sins and prejudices, any greed or jealousy, any ungodly desires for power or audience, any ways in which you seek the approval of humans, and any things you do in order to avoid conflict even though it sacrifices the Church's purity, power, and growth.
===
Ten Undeniable Truths of Womanhood:
A Christian woman is still a complete woman, even without marriage.

No man can teach a woman what is the truth of womanhood, even Christian womanhood.

The Bible clearly outlines what womanhood is…and it isn't always synonymous with motherhood.
Once a mother, always a mother.
Superwomen don't exist except in the comics.
All women make choices of no return.
Biology affirms what the Bible teaches.
The Christian woman must learn to artfully balance following Christ while honoring the men in her life.
Submission and sacrifice aren't bad words for women.
The Lord's maidservants bring glory to Christ by their obedience.