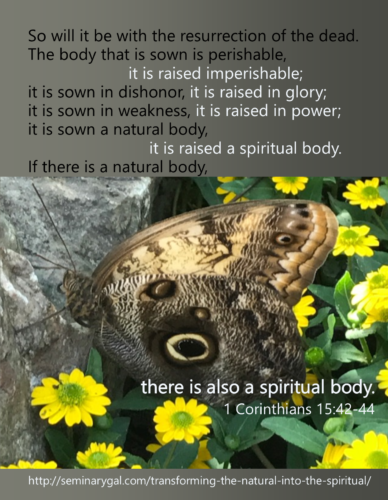 How amazing the Resurrection will be! That moment when the truly transforming power of God completes the work and changes the natural into the spiritual. That day when the reality we cannot presently see becomes every bit as natural to us as the world we presently see. Both are real, but one is hidden in glory.
This is what Paul talks about as we continue our look at What it Means to Be Resurrected from1 Corinthians 15.
1 Corinthians 15:42 So will it be with the resurrection of the dead. The body that is sown is perishable, it is raised imperishable; 43 it is sown in dishonor, it is raised in glory; it is sown in weakness, it is raised in power; 44 it is sown a natural body, it is raised a spiritual body. If there is a natural body, there is also a spiritual body.
When the dead are raised, there is a transformation.
Perishable>>>Imperishable

Dishonor>>>Glory

Weakness>>>Power

Natural>>>Spiritual
Just look at the transformation and what the natural world can offer presently!
Death, perishable, dishonor, weakness and natural.
And then look at what God does!
Eternal, imperishable, glory, power, and spiritual!
I don't know about you, but there are plenty of days when I look at the world we live in and the day ahead and feel a looming sense of fatigue and weariness. I long for that transforming power.
This natural world is, by consequence of sin, in a constant state of dying, oppression, and dishonor. But for the Christian, this natural world will be replaced someday by a New Heaven and a New Earth as God makes everything new, including you and me. Looking forward to that day. What about you?