Jesus came to remind us of God's Government -a government that existed back in Eden before Adam and Eve rebelled against God and ushered sin into this world. God's Government might be called Walking with God.
It is something we will not have again in fullness until Jesus returns. But God's Government is here and now spiritually because Christ was born. He rules in our hearts from the throne of the Cross. Spiritually, we can walk with Him even if we won't physically until we see Him face-to-face.
During this series called Timeless, we've been looking at what is timeless about the message of Christ and trying to keep what is political, what is fake, what is secular, and what is simplistic from turning a Rock My World event into a pile of tinsel, a tree at the curb, crumpled wrapping paper in a garbage bag, and happy songs about how cold it is outside. But Christmas is more. Isaiah said so.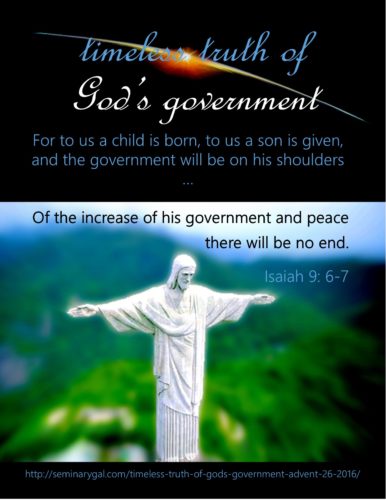 Isaiah 9:1 Nevertheless, there will be no more gloom for those who were in distress. In the past he humbled the land of Zebulun and the land of Naphtali, but in the future he will honor Galilee of the Gentiles, by the way of the sea, along the Jordan– 2 The people walking in darkness have seen a great light; on those living in the land of the shadow of death a light has dawned. 3 You have enlarged the nation and increased their joy; they rejoice before you as people rejoice at the harvest, as men rejoice when dividing the plunder. 4 For as in the day of Midian's defeat, you have shattered the yoke that burdens them, the bar across their shoulders, the rod of their oppressor. 5 Every warrior's boot used in battle and every garment rolled in blood will be destined for burning, will be fuel for the fire. 6 For to us a child is born, to us a son is given, and the government will be on his shoulders. And he will be called Wonderful Counselor, Mighty God, Everlasting Father, Prince of Peace. 7 Of the increase of his government and peace there will be no end. He will reign on David's throne and over his kingdom, establishing and upholding it with justice and righteousness from that time on and forever. The zeal of the LORD Almighty will accomplish this.
Isn't it strange to think that a human solution to war and violence is to do it better than our adversary? Be a better warrior? Oppress more oppressively?
Somehow, God shatters the yoke and reduces our enemy to rubble…without becoming a worse oppressor than the evil oppressing us now (death and sin).
Reflect today on whether you have allowed God's Government to preside over your heart. A government based upon the righteous rule of a Christ Child who went to the Cross so He could truly be God with us.
===
Join me for Advent 2016 Devotionals called Timeless: the Message of Christmas for All Ages beginning November 27, 2106. Timeless hope, encouragement, grace, peace, and love will be ours as we look into the Word, see the face of our Lord Jesus, and experience restoration in His presence. His goodness and His Gospel are truly Timeless.
Advent began November 27, 2016. If you're already signed up on my Home Page sidebar to receive posts, you'll get the Advent devotionals automatically. If you haven't signed up, today is a great day to do so. Advent and Lenten devotionals remain among my most popular offerings. You don't want to miss this great way to prepare your heart for the true meaning of Christmas!