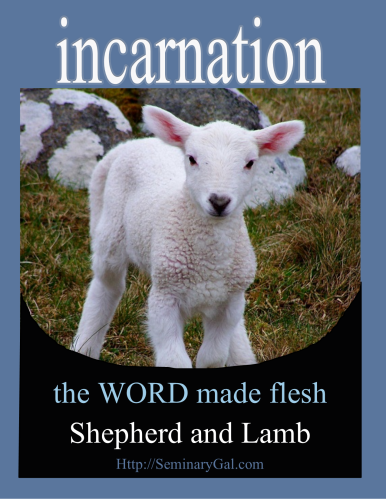 One of the more intriguing concepts in the Bible is that God kept His promise to us by being both the Good Shepherd and the Lamb of God sacrificed for us.
Frankly, God was thoroughly ticked off at us. Especially at ministry leaders. They didn't really have a clue how mad God was.  They were too busy watching out for themselves. So focused on their own needs, desires, lusts, and the horizontal of their own lives, they completely lost track of how they were openly defying the God who created them and elevated them to ministry service. There's a whole lot going wrong with those ministry leaders.  When someone might have cautioned them about a bad decision, their motto might have been "I'm all about bad decisions!"
So God comes to the rescue.
Read Ezekiel 34:10-30 especially verses
Ezekiel 34:22 I will save my flock, and they will no longer be plundered. I will judge between one sheep and another. 23 I will place over them one shepherd, my servant David, and he will tend them; he will tend them and be their shepherd. 24 I the LORD will be their God, and my servant David will be prince among them. I the LORD have spoken… 30 Then they will know that I, the LORD their God, am with them and that they, the house of Israel, are my people, declares the Sovereign LORD.
This is Messianic and "my servant David" was fulfilled in Jesus. He is not only the Good Shepherd who cares for the flock, but also He lays His life down for it.
In the Gospel of John, Jesus owns it!
John 10: 2 "The man who enters by the gate is the shepherd of his sheep. 3 The watchman opens the gate for him, and the sheep listen to his voice. He calls his own sheep by name and leads them out. 4 When he has brought out all his own, he goes on ahead of them, and his sheep follow him because they know his voice. 5 But they will never follow a stranger; in fact, they will run away from him because they do not recognize a stranger's voice." 6 Jesus used this figure of speech, but they did not understand what he was telling them. 7 Therefore Jesus said again, "I tell you the truth, I am the gate for the sheep. 8 All who ever came before me were thieves and robbers, but the sheep did not listen to them. 9 I am the gate; whoever enters through me will be saved. He will come in and go out, and find pasture. 10 The thief comes only to steal and kill and destroy; I have come that they may have life, and have it to the full. 11 "I am the good shepherd. The good shepherd lays down his life for the sheep. 12 The hired hand is not the shepherd who owns the sheep. So when he sees the wolf coming, he abandons the sheep and runs away. Then the wolf attacks the flock and scatters it. 13 The man runs away because he is a hired hand and cares nothing for the sheep. 14 "I am the good shepherd; I know my sheep and my sheep know me– 15 just as the Father knows me and I know the Father– and I lay down my life for the sheep. 16 I have other sheep that are not of this sheep pen. I must bring them also. They too will listen to my voice, and there shall be one flock and one shepherd. 17 The reason my Father loves me is that I lay down my life– only to take it up again. 18 No one takes it from me, but I lay it down of my own accord. I have authority to lay it down and authority to take it up again. This command I received from my Father."
Thought for the day: In the Incarnation, Jesus became not only the Good Shepherd but the perfect sacrifice, the Lamb of God.
Questions for pondering:
How is Jesus the gate?
How is Jesus the shepherd?
How is He the Lamb of God?
Who are the other sheep not of this sheep pen (v. 16)?
What is it that will make us one flock and who is the one shepherd?
====
Incarnation (2015 Advent Devotional Series) began November 29th.  By way of reminder, if you haven't signed up yet, you can receive these devotional studies in your email throughout Advent 2015 by entering your email address on the SeminaryGal.com home page in the space provided in the sidebar.  Or "Like" the SeminaryGal Facebook page to access them there.  If you like these devotionals, I'd really appreciate your letting others know so I can continue to spread the Good News far and wide.  Blessings to you, in Christ always, Barbara <><