The pastor at the church I attend on holiday stated emphatically that no one ever drifts toward God, but we can find ourselves having drifted far away from Him. Doesn't the letter to the Hebrews warn us time and again against drifting away? (Hebrews 2:1, Hebrews 3:7-19, Hebrews 5:2-6:6, Hebrews 10:19-31.)
We must pay more careful attention, therefore, to what we have heard, so that we do not drift away. (Hebrews 2:1)
It's not just listening, or even listening carefully. It's also believing.
But there's another warning from Hebrews 4:1 Therefore, since the promise of entering his rest still stands, let us be careful that none of you be found to have fallen short of it. 2 For we also have had the gospel preached to us, just as they did; but the message they heard was of no value to them, because those who heard did not combine it with faith.
And in James 2, isn't there an admonition to add to our faith, deeds borne of love for God and compassion for our fellow man?
James 2:16 If one of you says to him, "Go, I wish you well; keep warm and well fed," but does nothing about his physical needs, what good is it? 17 In the same way, faith by itself, if it is not accompanied by action, is dead. 18 But someone will say, "You have faith; I have deeds." Show me your faith without deeds, and I will show you my faith by what I do. 19 You believe that there is one God. Good! Even the demons believe that– and shudder … 26 As the body without the spirit is dead, so faith without deeds is dead.
How many of us resist resting, instead running forever exhausted on the hamster wheel of hearing, believing, and doing?
To that flurry of activity in faith, God reminds us of a Simple Truth He gave us to believe in: Hebrews 4: 9 There remains, then, a Sabbath-rest for the people of God; 10 for anyone who enters God's rest also rests from his own work, just as God did from his.
We don't want to drift. We don't want to be Running Forever Exhausted or getting burned out by everything on the docket. We want to be anchored. We need to dock it.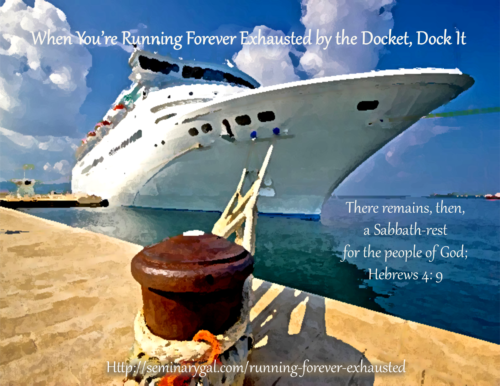 Hebrews 4:11 Let us, therefore, make every effort to enter that rest, so that no one will fall by following [the wilderness wanderers from Egypt's] example of disobedience.
A Sabbath-rest is necessary to separate the "GOD-things" from the GOOD things.