In A Charlie Brown Christmas, Charlie Brown seeks out advice from Lucy who is a 5-cent psychiatrist and happens to be "Real In" when he wants to talk about the source of his depression. She says that if he can identify his problem, then he's part-way to solving it so she lists a bunch of phobias. Our culture is quick to apply labels and to assign phobias (e.g. homophobia, Islamophobia, xenophobia) and other assorted hatreds. There are two groups that it's apparently okay to hate: Christians and Jews. It's connected if you understand the Jewishness of our Savior. The Jewishness of the Messiah, the Christ, who was born to Jewish parents in Bethlehem, the ancestral home of their father King David of Israel. You know, that Jewish event we celebrate as Christmas.
I'm not sure when anti-Semitism became okay, culturally speaking. It's not okay with me. It never has been.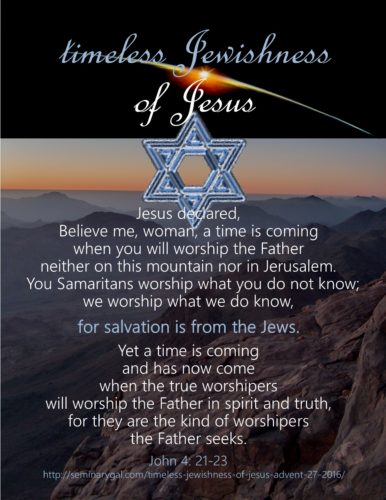 But there was a day worldwide when we experienced a collective grief about the Holocaust, and anti-Semitism was very real for a time. Lately however, we don't hear too much about that. Israel, for too many people, is seen as a problem state of land and religion…and Jews as a problem people.
They aren't. Israel isn't. God never revoked Chosen People status in order to bring the Gentiles in.
Salvation is still from the Jews.
Isaiah 9:1 Nevertheless, there will be no more gloom for those who were in distress. In the past he humbled the land of Zebulun and the land of Naphtali, but in the future he will honor Galilee of the Gentiles, by the way of the sea, along the Jordan– 2 The people walking in darkness have seen a great light; on those living in the land of the shadow of death a light has dawned. 3 You have enlarged the nation and increased their joy; they rejoice before you as people rejoice at the harvest, as men rejoice when dividing the plunder.
Indeed God has enlarged the nation and increased their joy because of the Jewishness of our Savior, Jesus of Nazareth, Jesus Christ, the Messiah foretold by the prophets. He'd be born a Jew but would save Gentiles too.
Isaiah 9:4 For as in the day of Midian's defeat, you have shattered the yoke that burdens them, the bar across their shoulders, the rod of their oppressor. 5 Every warrior's boot used in battle and every garment rolled in blood will be destined for burning, will be fuel for the fire. 6 For to us a child is born, to us a son is given, and the government will be on his shoulders. And he will be called Wonderful Counselor, Mighty God, Everlasting Father, Prince of Peace. 7 Of the increase of his government and peace there will be no end. He will reign on David's throne and over his kingdom, establishing and upholding it with justice and righteousness from that time on and forever. The zeal of the LORD Almighty will accomplish this.
The Messiah of Christians and Jews–all who believe in His Name for their salvation– Jesus, will reign on David's throne and over his forever kingdom as promised in Scripture. It's the Jewishness of our Savior. And Christians can rejoice as ones grafted into the olive tree by faith (Romans 11)! There is no phobia or anti-Semitism as God will continue to reach out to the unbelieving Jewish people as He does to everyone without prejudice. He desires that all come to faith and no one perishes. It's why He came.
For further reflection read Romans 11 and John 4: 21 Jesus declared, "Believe me, woman, a time is coming when you will worship the Father neither on this mountain nor in Jerusalem. 22 You Samaritans worship what you do not know; we worship what we do know, for salvation is from the Jews. 23 Yet a time is coming and has now come when the true worshipers will worship the Father in spirit and truth, for they are the kind of worshipers the Father seeks.
===
Join me for Advent 2016 Devotionals called Timeless: the Message of Christmas for All Ages beginning November 27, 2106. Timeless hope, encouragement, grace, peace, and love will be ours as we look into the Word, see the face of our Lord Jesus, and experience restoration in His presence. His goodness and His Gospel are truly Timeless.
Advent began November 27, 2016. If you're already signed up on my Home Page sidebar to receive posts, you'll get the Advent devotionals automatically. If you haven't signed up, today is a great day to do so. Advent and Lenten devotionals remain among my most popular offerings. You don't want to miss this great way to prepare your heart for the true meaning of Christmas!