The Light Incognito: The Savior came but no one figured it out. Not the shepherds who were told by angels. Not even Jesus' disciples truly caught on until after He'd died and risen from the dead. No one saw the Light and understood this mystery of God's good news for all mankind. Not His mother Mary. Not Peter. Not even the beloved disciple John. Jesus came incognito. That's what Scripture says.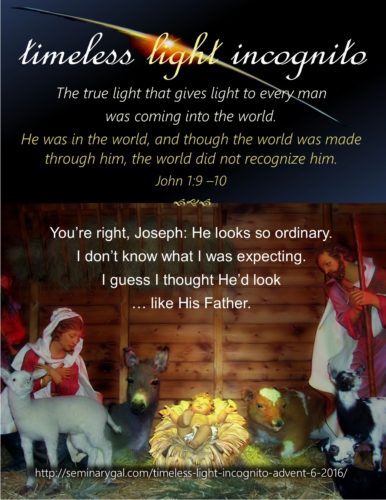 John 1:1 In the beginning was the Word, and the Word was with God, and the Word was God. 2 He was with God in the beginning. 3 Through him all things were made; without him nothing was made that has been made. 4 In him was life, and that life was the light of men. 5 The light shines in the darkness, but the darkness has not understood it…9 The true light that gives light to every man was coming into the world. 10 He was in the world, and though the world was made through him, the world did not recognize him. 11 He came to that which was his own, but his own did not receive him. 12 Yet to all who received him, to those who believed in his name, he gave the right to become children of God– 13 children born not of natural descent, nor of human decision or a husband's will, but born of God. 14 The Word became flesh and made his dwelling among us. We have seen his glory, the glory of the One and Only, who came from the Father, full of grace and truth.
Even when Simeon saw the baby Jesus, the Bible tells us this: Luke 2: 25 Now there was a man in Jerusalem called Simeon, who was righteous and devout. He was waiting for the consolation of Israel, and the Holy Spirit was upon him. 26 It had been revealed to him by the Holy Spirit that he would not die before he had seen the Lord's Christ. 27 Moved by the Spirit, he went into the temple courts. When the parents brought in the child Jesus to do for him what the custom of the Law required, 28 Simeon took him in his arms and praised God, saying: 29 "Sovereign Lord, as you have promised, you now dismiss your servant in peace. 30 For my eyes have seen your salvation, 31 which you have prepared in the sight of all people, 32 a light for revelation to the Gentiles and for glory to your people Israel." 33 The child's father and mother marveled at what was said about him. 34 Then Simeon blessed them and said to Mary, his mother: "This child is destined to cause the falling and rising of many in Israel, and to be a sign that will be spoken against, 35 so that the thoughts of many hearts will be revealed. And a sword will pierce your own soul too."
Why didn't Mary get it even after Simeon said "My eyes have seen your salvation, 31 which you have prepared in the sight of all people, 32 a light for revelation to the Gentiles and for glory to your people Israel? " Mary and Joseph marveled, but they didn't get it. Why?
Could it be that—like so many of us—we can have the very truth right before our eyes and still not see it? Kind of like that campaign to Start Seeing Motorcycles. It's not that motorcycles aren't already on the road. It's just that when we're expecting cars, we're not expecting motorcyclists. We need to start seeing what's already there.
It's Advent and we're anticipating Christmas Eve and Christmas morning. But don't be caught up with looking for gifts under the tree when God's greatest gift was in a manger in Bethlehem. Start seeing that God's gift, our Savior, came as a baby. Light and love and life…incognito.
For reflection, read the full passage of John 1:1-13 and start seeing the Light Incognito. Jesus has been there all along. His birth would fulfill many prophecies. How does Jesus' birth fulfill both law and justice?
Isaiah 51:4 "Listen to me, my people; hear me, my nation: The law will go out from me; my justice will become a light to the nations."
===
Join me for Advent 2016 Devotionals called Timeless: the Message of Christmas for All Ages beginning November 27, 2106. Timeless hope, encouragement, grace, peace, and love will be ours as we look into the Word, see the face of our Lord Jesus, and experience restoration in His presence. His goodness and His Gospel are truly Timeless.
Advent began November 27, 2016. If you're already signed up on my Home Page sidebar to receive posts, you'll get the Advent devotionals automatically. If you haven't signed up, today is a great day to do so. Advent and Lenten devotionals remain among my most popular offerings. You don't want to miss this great way to prepare your heart for the true meaning of Christmas!