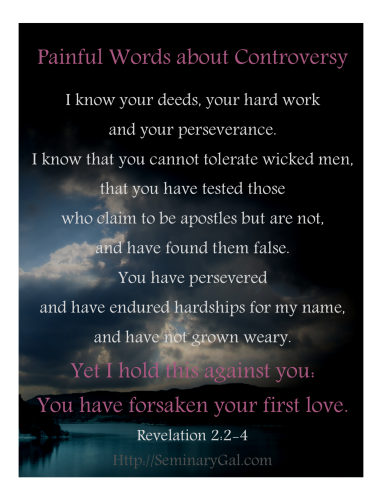 Controversies between Christians damage Christianity, diminish our influence in the world, waste precious time, and they brand Jesus in a very unbecoming way. 
This is almost unforgivable. 
Jesus is the Way, the Truth, and the Life.  If by our actions, we steer people from desiring the only way to their salvation, what have we accomplished?
I'm beginning to think that nearly every controversy in the Church contains the same cast of often well-educated characters vehemently arguing their sides. 
What is it you want:
to be found right,
or to be found righteous?  
God is not impressed with how smart you controversy-lovers are.  Perhaps He would say to you what He says in Revelation 2:
Revelation 2:1 "To the angel of the church in Ephesus write: These are the words of him who holds the seven stars in his right hand and walks among the seven golden lampstands: 2 I know your deeds, your hard work and your perseverance. I know that you cannot tolerate wicked men, that you have tested those who claim to be apostles but are not, and have found them false. 3 You have persevered and have endured hardships for my name, and have not grown weary. 4 Yet I hold this against you: You have forsaken your first love. 5 Remember the height from which you have fallen! Repent and do the things you did at first. If you do not repent, I will come to you and remove your lampstand from its place. 6 But you have this in your favor: You hate the practices of the Nicolaitans, which I also hate. 7 He who has an ear, let him hear what the Spirit says to the churches. To him who overcomes, I will give the right to eat from the tree of life, which is in the paradise of God.
If the goal of the command to teach sound doctrine is love, then we must treat others in a way that accomplishes that end.  Loveless behavior and sniping at fellow believers will never produce a loving consequence.  Nor will divisiveness create an ever-increasing and unified body of believers.
If your goal is to be found right, chances are good you won't be found righteous because pride undercuts any doctrinal correctness you may think you have.  Worse, this pride sacrifices brothers and sisters.  If the second command to love neighbors is just like the first, "Love the Lord your God," then righteous person keeps in mind the goal of love.  The right and righteous one will steer clear of needing to be found right in the eyes of those men who enjoy being mired in meaningless controversies.