He is Risen!  He is Risen, indeed!
Just as He said.
Sometimes, I try to imagine the fear, the confusion, the shock, and the awe that the women might have felt when they first encountered the empty tomb.  An angel proclaims "Do not be afraid" to assuage their fear.  To hear the angel's knowledge of why they are there must have ministered peace to their unsettled minds.  The explanation of the Lord's rising from the dead would still have been a shock until they realized–in awe–that it was "just as He said."  Jesus had told them.
There's no need for fear, confusion, or shock because their Lord had told them before it ever happened.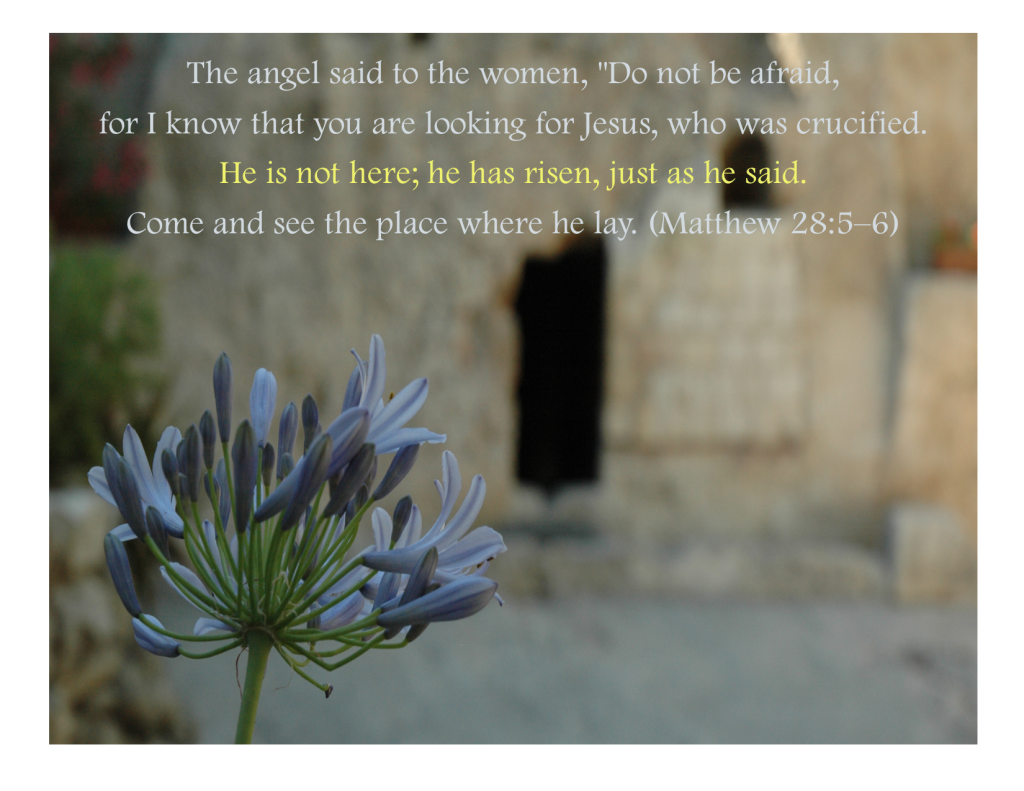 So, today on Easter Sunday, we celebrate the Risen Lord and ask ourselves what else are we missing that He has told us?  What else are we forgetting? What other things haven't we quite understood? How has He instructed us to live?  How can we be Christians and have our daily actions be "just as He said"–how can we be living, reflecting Him truly?
Love the LORD your God with all your heart and with all your soul and with all your strength. (Deuteronomy 6:5)
Obey the Ten Commandments (Deuteronomy 5:1-27)
Be salt and light in a dark world, doing good to others.  (Matthew 5:13-16)
Love your enemies (Matthew 5:43-48)
Give to those in need, recognizing how much we've been given (Matthew 6:1-4)
Devote ourselves to prayer and forgiveness (Matthew 6:5-15)
Know where our true treasure is (Matthew 6:19-24)
Trust God to provide and to judge (Matthew 6:25-7:6)
And to do what He says…just as He said. 
Over the next few weeks, we will look at these things and learn what it means to be Living the Risen Life, obeying Christ, and doing the will of the Father.  The decision to follow Jesus is just the beginning of Living the Risen Life because, "Not everyone who says to me, 'Lord, Lord,' will enter the kingdom of heaven, but only he who does the will of my Father who is in heaven." (Matthew 7:21)
At the very heart of discipleship is learning what Scripture says and building on that foundation.  Luke 6:46 "Why do you call me, 'Lord, Lord,' and do not do what I say? 47 I will show you what he is like who comes to me and hears my words and puts them into practice. 48 He is like a man building a house, who dug down deep and laid the foundation on rock. When a flood came, the torrent struck that house but could not shake it, because it was well built. 49 But the one who hears my words and does not put them into practice is like a man who built a house on the ground without a foundation. The moment the torrent struck that house, it collapsed and its destruction was complete."
Maybe it's time to take Him at His Word and know the Resurrection Life He offers us.
Happy Easter!