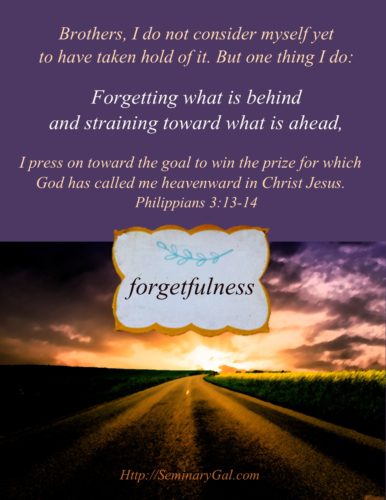 Forgetfulness is not often seen as a virtue. It's seen as evidence of mental decline into the sad world of dementia and the long goodbye of Alzheimer's. But forgetting the right things can be a virtue to be gained.
The Apostle Paul thought so.
And God thinks so.
Forgetfulness?
"Don't be silly!" Some of you may be thinking, "God doesn't forget!"
Sure He does.
He's just careful about forgetting what He intends not to remember. 
Isaiah 43:25 "I, even I, am he who blots out your transgressions, for my own sake, and remembers your sins no more."
Quoting from Jeremiah 31, the author of Hebrews speaks of God's forgetfulness:
Hebrews 8: 10 This is the covenant I will make with the house of Israel after that time, declares the Lord. I will put my laws in their minds and write them on their hearts. I will be their God, and they will be my people. 11 No longer will a man teach his neighbor, or a man his brother, saying, 'Know the Lord,' because they will all know me, from the least of them to the greatest. 12 For I will forgive their wickedness and will remember their sins no more."
Paul forgets too.  Philippians 3:13 Brothers, I do not consider myself yet to have taken hold of it. But one thing I do: Forgetting what is behind and straining toward what is ahead, 14 I press on toward the goal to win the prize for which God has called me heavenward in Christ Jesus. 15 All of us who are mature should take such a view of things. And if on some point you think differently, that too God will make clear to you.
How many of us, though, after we've forgiven someone for a wrong still dredge up the past faults of the person we claim to have forgiven? Continually using it as leverage or a permanent sign of their shame?  Could a certain forgetfulness of what we've forgiven make us more Christ-like?  Yup.

And how many of us live in the glory days of the past, unable to let go of former laurels to press onward without being tethered to the past? We must learn to forget a reliance upon past achievements, too.
The Apostle Paul shows us how he forgets past wrongs and past victories. Paul and Barnabas had a disagreement over taking Mark on further ministry adventures. Paul wanted no part of having Mark along since he was a deserter as far as Paul was concerned (Acts 15:37-38). Yet, forgiveness worked its power and by the time of 2 Timothy 4:11, Mark was a beloved son again and useful in ministry.  Regarding forgetfulness of past glories, Paul even says that it's a sign of maturity (Philippians 3:15) and therefore, a virtue.
Ponder today: the connection between grace and forgetfulness
Bible characters of the day: Paul and Mark