Jesus deeply desired that people understand and acknowledge the truth. It made His heart hurt, surely grieving Him to the core, knowing that the truth would be rejected over and over again throughout the ages before He'd come a second time to judge people according to this very truth. "Simply human? Got it," thought Jesus, "but it's not the same as innocent or ignorant. This was rebellion, plain and simple. They know the truth and reject it."

Living by the truth is much harder when people refuse to acknowledge truth as the starting point.
These were among the thoughts in Jesus' mind as He headed toward Jerusalem with the hot dusty wind leaving a cake of dust on His sweaty face. Finding a welcoming place to stay at night and to wash, He then went to the place where people gathered, and He sat down to teach them. After all, He knew the truth firsthand and wanted them to know it too. He smiled to Himself as one of those gathered, an expert in the law, stood up to ask Him a question. "It's a test," He thought suppressing a laugh. "It's always a test which is not the same as expressing a genuine desire to learn."
"Teacher," the expert asked, "what must I do to inherit eternal life?"

(Luke 10:25)
Jesus' expression remained welcoming but thoughtful. "OK, expert in the law," He thought while inwardly chuckling, "Let's play your game, let you shine, and then let's ask the questions that will truly teach you." He asked,
Luke 10:26 "What is written in the Law? How do you read it?"
The expert eagerly answered 27 'Love the Lord your God with all your heart and with all your soul and with all your strength and with all your mind'; and, 'Love your neighbor as yourself.' "
28 "You have answered correctly," Jesus replied. "Do this and you will live."

(Jesus smiled and His eyes twinkled. This expert answered with the easy answer. Sure, he was well educated for grandstanding, but this expert's life could experience some greater evidence of love and truth.)
29 But the expert in the law wanted to justify himself, so he asked Jesus, "And who is my neighbor?"
(Jesus smiled again. It was completely predictable, this self-justification. But herein lies the true teaching, so Jesus tells a parable, kind of like a story, or a little riddle, but easily enough understood for those with eyes to see. The beauty of this teaching was the way truths were peeled away like many layers of an onion. The core truth was what He wanted the expert to acknowledge.)
Luke 10:30 In reply Jesus said: "A man was going down from Jerusalem to Jericho, when he was attacked by robbers. They stripped him of his clothes, beat him and went away, leaving him half dead. 31 A priest happened to be going down the same road, and when he saw the man, he passed by on the other side. 32 So too, a Levite, when he came to the place and saw him, passed by on the other side. 33 But a Samaritan, as he traveled, came where the man was; and when he saw him, he took pity on him. 34 He went to him and bandaged his wounds, pouring on oil and wine. Then he put the man on his own donkey, brought him to an inn and took care of him. 35 The next day he took out two denarii and gave them to the innkeeper. 'Look after him,' he said, 'and when I return, I will reimburse you for any extra expense you may have.'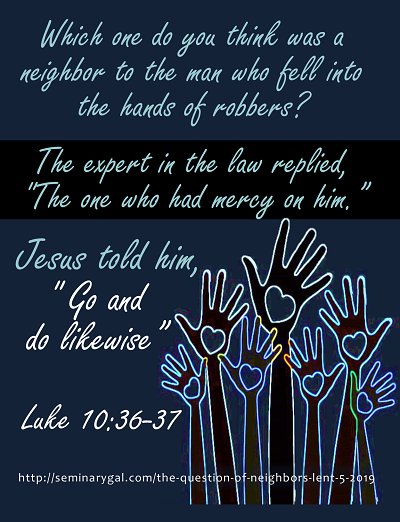 With the parable concluded, Jesus reframed the expert's question "And who is my neighbor?" with the bigger question in Luke 10:36 "Which of these three do you think was a neighbor to the man who fell into the hands of robbers?" 37 The expert in the law replied, "The one who had mercy on him." Jesus told him, "Go and do likewise."
It's not just a matter of testing what you know or showing off what you know. It's a matter of doing what you know to do. Think about it:
In what ways do we fail to practice what we preach?
Why does God presume we already love ourselves?
How is loving a neighbor to that standard of loving others as we love ourselves already a challenge?
How are loving our enemies (Matthew 5:44) and loving them as Christ loved us (John 15:22) revealing a whole new standard?
Why do you think that people were chronically testing Jesus?
How does this differ from God's testing us to prove that our faith is genuine (1 Peter 1:7 NASB)?
Thank You, Lord Jesus, for the gentle ways You teach us, ways that do not condemn, but also do not sugarcoat reality of the depravity of the human heart. Thank You, Lord God, for not lowering the standards of righteousness to meet us somewhere in the middle between Your holy and righteous standards and our sinful behavior. Thank You for higher, better, and uncompromising standards of conduct and especially, Lord Jesus, for the forgiveness You purchased on our behalf at the Cross because we fail to meet these standards at every turn. Thank You Holy Spirit for quickening our hearts and helping us to see our neighbor in order to love and serve others. In Jesus' Name, we offer thanks to God our Father. Amen.
If you're already signed up on my Home Page sidebar to receive posts, you'll get the 2019 Lent Devotionals automatically. Or you can "Like" Seminary Gal on Facebook and they'll be delivered to your Facebook news feed. If you haven't signed up, today is a great day to do so. Advent and Lenten devotionals remain among my most popular offerings. You don't want to miss this great look at the Easter story to prepare your heart for Easter! Understanding that prior years' devotionals remain popular,