He and I couldn't have been more different, but we found middle ground at a gas station's grassy parkway somewhere in Georgia. He was traveling south from Shakopee, MN and I was traveling north from Florida. He had ear piercings and multiple tattoos, spiked hair, and was wearing a Bad Wolves shirt as he got out of his rental van and extinguished his cigarette. I had just paused "All Things Are Possible" from my CD of Hillsong Christian music as I got out of the car into the sweltering heat to stretch my legs. He was moving his family down to help with his grandmother's medical needs as she journeyed toward requiring hospice. I was heading home after time doing some renovations and being with family.
As I spoke with him over his convenient beagle, having offered him some cold bottles of water, he opened up and told me his story. (I'm one of those people who experiences this a lot.) I told him he was doing a beautiful thing, moving with his family to help family. A way to live life with no regrets.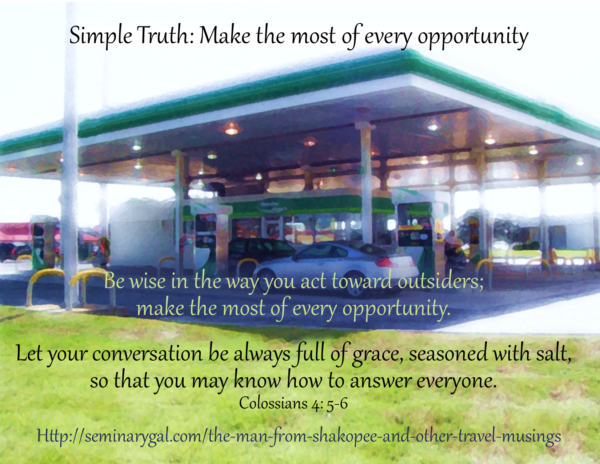 .
We talked matters of life and death and when one of his family members returned to the van, I said that one of the benefits of having hope in Christ, in eternal life, is that death isn't the end—it's a new beginning. I quoted the Reverend Billy Graham about his death (which was actually re-quoted from D.L. Moody about Moody's death),
Someday you will read or hear that Billy Graham is dead. Don't you believe a word of it. I shall be more alive than I am now. I will just have changed my address. I will have gone into the presence of God."
The woman who had just gotten into the van, having heard this part of the discussion, looked at me with misty eyes and a gentle smile that seemed to say something beyond sentiment. Perhaps they'd been talking about that very thing. Perhaps she'd been witnessing to the man from Shakopee. Perhaps those words set the stage for the next leg of the journey and the discussions they'd have about Jesus and eternal life. Perhaps they'd bring a message of hope from Shakopee and a Georgia gas station to the destination in Florida.
He loaded his beagle. I got back in my car to head home with hours to drive and a mind and heart full of travel musings and pondering the surprising intersecting ways of God. Every rest area in Georgia had been closed. What gives, I thought! I still needed a break so I stopped early to get gas for the car. I had no idea that it was an opportunity God knew I wouldn't have wanted to miss.
Colossians 4: 2 Devote yourselves to prayer, being watchful and thankful. 3 And pray for us, too, that God may open a door for our message, so that we may proclaim the mystery of Christ, for which I am in chains. 4 Pray that I may proclaim it clearly, as I should. 5 Be wise in the way you act toward outsiders; make the most of every opportunity. 6 Let your conversation be always full of grace, seasoned with salt, so that you may know how to answer everyone.