Spring Ephemerals are among the earliest flowers to bloom in my yard.  
These are specially adapted plants usually occurring in woodlands or wooded lowlands, known for completing their growth… to flower… to seed process in the vernal window before the trees leaf out.   The foliage of these heralds of spring often dies back to the ground as the plants go dormant until the following spring.  Spring beauties, trout lilies, trillium, and bluebells are among those considered to be spring ephemerals.  Here today.  Gone tomorrow.
With the change of the seasons, the plants and the birds all begin the transition.  The snowbirds (slate colored juncos) are suddenly gone and the hummingbirds will arrive soon.  The rose breasted grosbeak, indigo buntings, and scarlet tanagers will be passing through on their early summer vacation.  I have the pleasure of a rare sighting and suddenly they are gone. The Baltimore orioles will arrive to nest and they linger for a while.  During their stay in my yard, they prepare for making their long journey back to their residential winter habitat in Central America and by mid-summer, suddenly they are gone.  I love their orange brilliance so I attract them with oriole feeders and oranges.  I have since come to appreciate that others view them as nuisance birds because in some areas of the country they compete with hummingbirds for feeders.  Last year, I offered some strategies on how to keep orioles from dominating feeders and providing flowers especially favored by the tiny miracles called hummingbirds.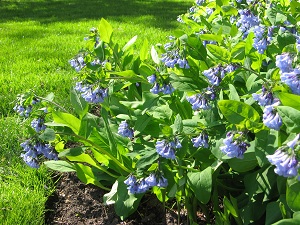 I love the ebb and flow of the seasons.  The way things come and go.  Even with the plants.  Look at my beautiful Virginia bluebells (Mertensia virginica), one of the spring ephemerals in my yard.  Their blue color is absolutely breathtaking, rivaled only by Myosotis scorpioides (true forget-me-not) and Pulmonaria officinalis (lungwort) in my yard.  Bleedingheart often die back to the ground too.  My primrose from last year's indoor cheer-me-up purchase in February got planted in a sheltered location last summer and are still rewarding me with their abundant mini-bouquets held proudly above the leafy whorl.
All of this is what the Bible speaks about.  God gives beauty to each in its season.  It's the planned ebb and flow of the seasons of our lives and God cares for us all the time as His gracious gift. 
 Look at the birds of the air; they do not sow or reap or store away in barns,
and yet your heavenly Father feeds them. Are you not much more valuable than they?
Who of you by worrying can add a single hour to his life? "And why do you worry about clothes?
See how the lilies of the field grow. They do not labor or spin.
Yet I tell you that not even Solomon in all his splendor was dressed like one of these.
If that is how God clothes the grass of the field, which is here today and tomorrow is thrown into the fire, will he not much more clothe you, O you of little faith?
So do not worry, saying, 'What shall we eat?' or 'What shall we drink?' or 'What shall we wear?'
For the pagans run after all these things, and your heavenly Father knows that you need them.
But seek first his kingdom and his righteousness, and all these things will be given to you as well.
Therefore do not worry about tomorrow, for tomorrow will worry about itself.
Each day has enough trouble of its own
(Matthew 6:26-34)