Spring Ahead?  One can only hope.  It's late March in Chicagoland and so much for the old motto that "March comes in like a lion and out like a lamb."  No lamb I know of turns 19 degrees tonight and threatens to snow again mid-week.
Just a little setback, I say, and more like Chicagoland than I'm often willing to admit.  In James 5:7 it says, "See how the farmer waits for the land to yield its valuable crop and how patient he is for the autumn and spring rains."  I guess I'm not a farmer and I have a long way to go.  I'm getting impatient…which is why I have planted pots.  They come inside when it's cold and travel outside on nice days.  It's a way to enjoy spring even when the March lamb is delayed until April…or even May!
Inside, I've planted seeds of my cool season flowers like lobelia, ones which bridge the seasons like alyssum, and ones which seem to take forever to grow to a reasonable size such as impatiens and Brazilian vervain.  Some plants I won't even try to grow from seed and I take cuttings instead from plants which I've overwintered: begonias, purple potato vine, ivy geranium, and landscape roses.
My tree rose, carefully wrapped and overwintered in my compost pile, now  has been unearthed, potted and is slowly being acclimated to the outdoors from the safety of my garage.  I don't want it to come out of dormancy too quickly, nor do I want to leave it in the compost pile where it may leaf out and get damaged when I unwrapped it.  The timing was great!  The buds were swelling but did not leaf out.  I pruned away any dead stems from the graft union (which on a tree rose is at the top of the standard), potted it with a nice quality potting mix and gave it a small drink of half strength fertilizer with slightly higher Phosphorus and Potassium ratios so that it will help the rose to send out new roots which are more important right now than leaves.  By the time the weather improves, roots will be well established and I can feed it with a more balanced N-P-K ratio and get the leafing to be full and beautiful.  The last thing I did before bringing it into the garage was to spray it with a systemic all-in-one rose spray to give it an edge against any insects or diseases that may want to interfere with the growth of the plant.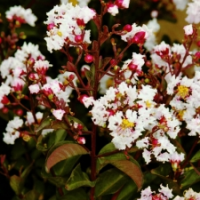 Some of my plants are still hiding in the garage awaiting better weather: a lovely 'Burgundy Cotton' Crape Myrtle which I brought back on the airplane from Texas and some ornamental grasses that I use in pots.  They are not hardy here, so I consider my garage to be more of a hardiness zone like Arkansas.
Of course, it's time to plant vegetable seeds now too.  I have a variety of heirloom tomatoes that I've started from seed.  Black Krim and Green Zebra are two varieties that we tried last year for the first time and were definite winners.  I am also partial to Sweet Tangerine and Jubilee since their color is spectacular, they are prolific producers, and they have proven to be more disease-resistant than many other varieties.  By the time warm weather arrives, these heat-lovers will be a suitable size to plant in my deck boxes.
This week, I'll also be building a few trellises for my clematis that have outgrown their old ones.  I will install them before the clematis start to leaf out and begin vigorous growth very shortly…or so one can hope!  Stay tuned because Spring is ahead!