If we're walking on the Way of Holiness, what would be in our pack of provisions?  Today's passage (Colossians 4:2-6) outlines a few possibilities:
A book of prayers—so you can be devoted to prayer as a way of life.
Reading glasses—so you can read your circumstances and look for Jesus in them.
Thank you notes—so you can cultivate a thankful heart for many blessings in your life, communicating your thankfulness to others.
Keys—so you can have open doors to minister to those in need.
Megaphone—so you can proclaim the Gospel far and wide.
Scales of justice—so you can wisely weigh your actions in relation to the opportunities that God gives you.
And a salt shaker.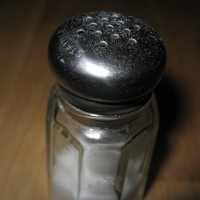 In a day and age when salt is considered to be a food evil second only to saturated fat, we have lost sight of the wonders of salt.  There was a time when salt added not only flavor—making things taste good—but also it was a necessary preservative ingredient—making things last.
Do you want to be a winsome person and have wonderful relationships that last?  Consider what the apostle Paul says,
Let your conversation be always full of grace,        seasoned with salt, so that you may know how to answer everyone.  Colossians 4:6