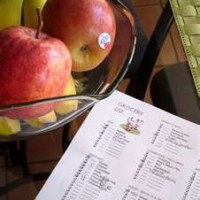 Have you ever had someone dictate a list of things to you?  Perhaps a honey-do list?  A grocery list?  Maybe things you needed from the hardware store?  Just when you think they're through and you have a nice long list, they say, "Oh, and one more thing."  Colossians 3:1-17 reads kind of like that.
The apostle Paul, writing to the church at Colosse, gives instructions on how to live a Christ-honoring life.  Aim high, he says.  Your heart and your mind should be reordered for Kingdom purposes.  After all, you died to the old life and have a new life in Christ. 
There's a new wardrobe to put on and the old one needs to be destroyed (not simply put in storage).  What did your old wardrobe have?  Paul says get rid of sexual immorality, impurity, lust, evil desires and greed, which is idolatry (Colossians 3:5).  Oh, and one more thing.
"Anger, rage, malice, slander, and filthy language from your lips" (v 8).  And one more thing.
"Clothe yourselves with compassion, kindness, humility, gentleness and patience" (v 12).  "Bear with each other and forgive" (v.13).  Oh, and one more thing.  "Forgive as the Lord forgave you."  Ouch.  Anything else, Paul?
Now that you mention it, yes!  Verses 14 and 15, "And over all these virtues put on love, which binds them all together in perfect unity. Let the peace of Christ rule in your hearts, since as members of one body you were called to peace."  Piece of cake, yeah.
Oh, and one more thing:  "be thankful."  Gulp.
"Let the word of Christ dwell in you richly as you teach and admonish one another with all wisdom, and as you sing psalms, hymns and spiritual songs with gratitude in your hearts to God" (v.16).
Anyone feeling overwhelmed by the enormity of the task of living a Christlike life?
But there's one more thing: "whatever you do, whether in word or deed, do it all in the name of the Lord Jesus, giving thanks to God the Father through him" (v.17).  Aim high with your heart and mind set on Him, then you'll find what Paul found: 
The key to Christlikeness is actually simple: Follow Christ.  "I can do everything through him who gives me strength" (Philippians 4:13).