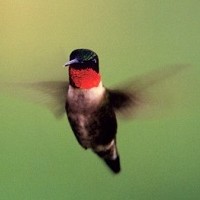 Part of the joy of gardening is the beauty of wildlife drawn to a well planned garden.  I love birds.  When I was a child, I kept a bird-watching journal and enjoyed identifying birds and their habitats.  A long time ago, I abandoned the written journal, but mentally, I have a record of birds in the yard and when their seasons are.
We've just begun the month of "Maybruary" as a friend put it.  It's a very cold start to May.  Everything blooming is about two weeks behind a typical year.  For that reason, I ignore what the scenery looks like and pay close attention to the calendar and on April 20th, I put my feeders out for both hummingbirds and orioles.
I'm glad I did since many of my flowers that hummingbirds rely upon are weeks behind schedule.  The ruby-throated hummingbirds arrived last week and found their feeder right away.
The orioles arrived yesterday with their brilliant orange and black markings!  I'm so excited at seeing these two beauties.
I've found three keys to keeping hummingbirds and orioles in my yard: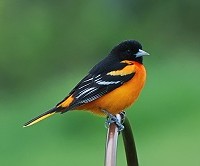 Put the feeders out early before the birds arrive.  When hummingbirds and orioles find available food, they'll make your yard their home for feeding and maybe breeding.
Do not use soap of any kind to clean their feeders.  Bleach and water mixed will disinfect the feeder without leaving a soap taste that birds hate.  I always rinse it very well but am reassured by knowing that any bleach traces left behind are not harmful to birds because of the way bleach chemically disappears in the sugar solution.
While commercial nectar solutions exist, I find that the color of the feeders catches the attention well enough that birds are happy with fresh "nectar" solution made with one part sugar to four parts boiling water.  I boil the water to make the sugar easier to dissolve.  Then I let it cool before putting it in the disinfected feeders.
While I'm sad that the juncos (snowbirds) have left for the season and the cedar waxwings have been passing through, I know that the arrival of the migratory indigo buntings, scarlet tanagers, and rose breasted grosbeaks will be shortly.  The calendar says Yes, even if it seems we're in Maybruary.  So I have seed ready for the birds that are seed eaters.  And I trust God to provide insects for the insect eaters.  And guess what?  As I'm writing, the first rose breasted grosbeak of the season just arrived at my feeder.  How wonderful!   I am privileged to play a small part of God's plan for feeding the birds.
Look at the birds of the air; they do not sow or reap or store away in barns, and yet your heavenly Father feeds them. Are you not much more valuable than they?  Matthew 6:26