How can we possibly be strong and courageous? Haven't you looked at what's going on in today's world: resist, oppose, mean-spirited, lying, accusation, assault, evil's rise, and its impending darkness? Yes, I am seeing the same world that you are, but I know what God has told me…and what God tells me is the truth.
Be strong and courageous. Do not be afraid or terrified because of them, for the LORD your God goes with you; He will never leave you nor forsake you. (Deuteronomy 31:6)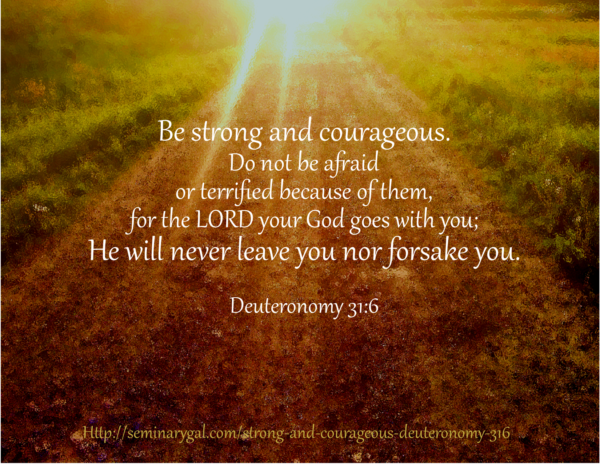 .
The truth is that circumstances of this world will pass away. The same God who says He'll be with us, that He will never leave us, He will never forsake us, is the same God who holds it all in His hands and tells us the truth about whom to fear.
Matthew 10:26 "So do not be afraid of them. There is nothing concealed that will not be disclosed, or hidden that will not be made known. 27 What I tell you in the dark, speak in the daylight; what is whispered in your ear, proclaim from the roofs. 28 Do not be afraid of those who kill the body but cannot kill the soul. Rather, be afraid of the One who can destroy both soul and body in hell."
Wise Christians know that evil may seem to win a few battles now and then, but the war's outcome was determined back on the Cross as evidenced by the empty tomb of our Risen Lord, and that final outcome of victory in Christ is assured by the coming of the Holy Spirit.
Think again about absolutes:
Does God coddle our earthy fears and tell us we can be slightly afraid? It's okay if it's just a tad…or are we commanded not to be at all afraid of this world, not even a smidgen?

How is the absolute nature of God and His absolute faithfulness encouraging in that regard?

How is the Risen Lord able to go with each of us at the same time by our faith in Him?

With respect to absolutes, when God says to "

be afraid of the One who can destroy both soul and body in hell,

" how serious is He about that fear and that destruction?
We praise You, Lord, for Your supreme faithfulness and for Your eternally encouraging Word. For any who struggle today with fear, we ask Lord, that You would be with them, reminding them of why You are entirely faithful, reliable, trustworthy, and true. We ask, Father, that You would give us Kingdom vision, so we would see things as You do…in which evil melts away and is destroyed by purifying fire in Your presence so nothing remains but goodness and truth. We ask for courage where courage is needed, boldness where nothing but boldness will do, and for Your grace to remind us we are dust, saved only because of Your Son Jesus Christ, our Savior. Remind us daily to "be strong and courageous" and not to be afraid or terrified because of anything this world can bring…and that's because the LORD our God goes with us; He will never leave us nor forsake us. Praise God for that!