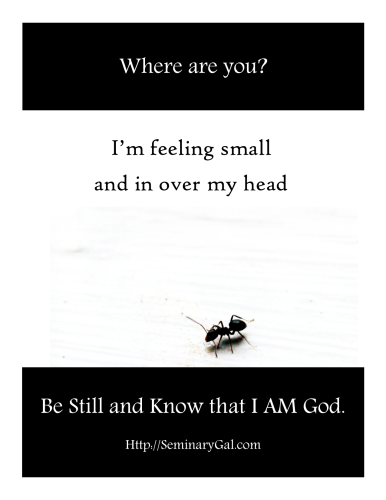 In over your head.  Woefully inadequate for the task.  Feeling really tiny.  Up against the rich and powerful.  Don't have a prayer if it's all up to you.  Have you ever felt that way?
Many people called to leadership can relate to how Moses and Aaron must have felt.  Pharaoh was the most powerful man in the world with riches and chariots and a great big army.  Moses was a Pharaoh's-court-educated-turned-murderer-fugitive-shepherd who didn't like public speaking.  Aaron was his older brother, another Hebrew, who got roped into being his sidekick.
So they show up and tell the Pharaoh that the LORD wants him to let the Israelite slaves go so they can worship the LORD and be free.
Pharaoh said, "Who is the LORD, that I should obey him and let Israel go? I do not know the LORD and I will not let Israel go."   (Exodus 5:2)
That went well, Moses, must have thought.  He'd heard that God was going to harden Pharaoh's heart, but there didn't appear to be any negotiating room left for Moses here.
Exodus 5:22 Moses returned to the LORD and said, "O Lord, why have you brought trouble upon this people? Is this why you sent me? 23 Ever since I went to Pharaoh to speak in your name, he has brought trouble upon this people, and you have not rescued your people at all."
Moses came to the LORD with his inadequacy. 
What did God do?
Exodus 6:1 Then the LORD said to Moses, "Now you will see what I will do to Pharaoh: Because of my mighty hand he will let them go; because of my mighty hand he will drive them out of his country."
God reassured Moses that it wasn't up to him. 
God would take care of Pharaoh and it would be His mighty hand times two…which would leave Pharaoh feeling like he'd waded in over his head.
Be Still.  It's not all up to you.
Be Still.  I'm working miracles.
Be Still and Know that I AM God.  I'm bigger and more powerful than anything you're up against.  You're not in over your head if you're in My hand.
Be Still and Know—truly Know—that I AM God.
Questions for reflection:
What limits do you place on resources at your disposal when confronting a seemingly impossible situation?
What are some factors that cause leaders—more than others—to feel really in over their heads?
When things don't initially go as planned, what do you typically do?  What should you do?