Have you ever been mistreated? Had your character maligned? Had gossip spread about you?  If yes, then you probably have an idea of how Joseph must have felt.  One day he was the favorite son and then suddenly it's all gone.
Joseph was in prison unfairly (Genesis 39-40). He'd tried to do everything right and his brothers sold him to Ishmaelite slave traders.  He'd tried to behave and Potiphar's wife falsely accused him.  Joseph is sitting there in prison and must have been thinking, "What gives?"
How many of us, trying to do what's right, have bad stuff happen and are left wondering if this downward spiral is the reward for a life of faith?
To make matters worse, Joseph still tries to be faithful in prison and then the guy he helps gets freed from prison promptly and conveniently forgets about Joseph, leaving Joseph feeling quite alone.  But here in the dungeon, Joseph gives us a human model of worship that honors God, showing what it means to Be Still and Know that I AM God. He was living 1 Peter 2:18-23 before it was written about Christ.
1 Peter 2:18 Slaves, submit yourselves to your masters with all respect, not only to those who are good and considerate, but also to those who are harsh. 19 For it is commendable if a man bears up under the pain of unjust suffering because he is conscious of God. 20 But how is it to your credit if you receive a beating for doing wrong and endure it? But if you suffer for doing good and you endure it, this is commendable before God. 21 To this you were called, because Christ suffered for you, leaving you an example, that you should follow in his steps. 22 "He committed no sin, and no deceit was found in his mouth." 23 When they hurled their insults at him, he did not retaliate; when he suffered, he made no threats. Instead, he entrusted himself to him who judges justly.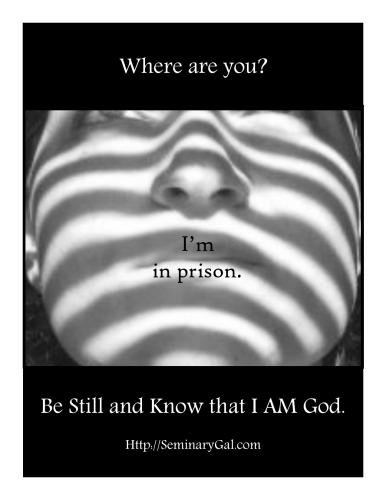 Be Still.  Your faithfulness isn't being tested in any way I AM not prepared to reward
Be Still.  This is to your credit.  I see everything and know all about your suffering. 
Be Still.  I need those who will continue to glorify Me even in the prisons of life—in the disappointments, in the rejections, in the false accusations and in the long lonely waits.
Be Still and Know that I AM God.  I walked that road ahead of you for a purpose.  Nothing witnesses like unjust suffering.
Be Still and Know that I AM God.  It's counterintuitive, but I receive glory when you follow Me.  Your faith—in the realm of the unseen–is earning an eternal weight of glory. 2 Corinthians 4:17 For our light and momentary troubles are achieving for us an eternal glory that far outweighs them all.
Questions for reflection:
What is your default response to suffering?
When suffering comes your way that is undeserved, how does that make you feel?
What might be some of the prisons of your life?  What kind of thoughts hold you hostage?
What kind of changes do you need to make to Be Still and Know that I AM God in the midst of unjust suffering?