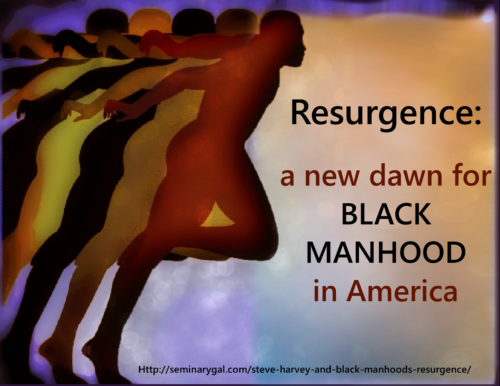 I'm not black and I'm not a man, but I sure appreciate strong male leadership. I look at men like Steve Harvey, Jim Brown, Supreme Court Justice Clarence Thomas, Dr. Benjamin Carson, Jason Riley, LeBron James, and Shelby Steele (among many others) and I'm getting really excited about what God is doing in terms of Resurgence!
The rediscovery of black manhood—a new dawn—and the miracles this resurgence can mean for black communities.
In many respects, we're in the locker room at halftime and assessing the first half and preparing to take the field again to win the game. Resurgence requires an honest assessment of our execution of play in the first half to bring out our very best!
Former Apple iPhone engineer and author John Gibbs (who is black and male) expressed the problems of the first half this way before expressing his hope at what is ahead :
Black people are in crisis. Families are completely broken, with 70 percent of kids born to single mothers. There's an astronomical crime rate, extremely poor school performance, and the highest unemployment rate of any racial group. There's a thug culture that elevates violence, misogyny, and accepting incarceration as inevitable. Studies even show black kids' popularity decreases as their GPA increases, which means that parts of the culture sadly value being dumb.
I want for you to look again at the problems Gibbs outlines and I'll add two: gang affiliation and ISIS radicalization, neither of which are confined to black America, but that's where I'm seeing a stirring of God. The solutions can start there! Wow, amazing!
Do you wanna know a dirty little secret about those two problems and why I think the answer may be found in Resurgence?
These violent groups are attractive because males are craving male leadership, father figures, even fathers in many cases and they desperately want brotherhood and strength on display. They want to respect authority—what I'd call black manhood and what has frankly been missing from a generation raised by single mothers and the morality of rap artists whose lyrics too often cry out against police as a legitimate authority. Make no mistake: it's connected.
In The Sunday Edition with Michael Enright on CBC radio, he interviews Jamil Jivani (a Canadian lawyer, community organizer and professor) whose life work and passion seeks to understand this situation. Jivani says,
[Changes in employment and educational prospects for men] make for a certain intense experience that groups like ISIS, for instance, or street gangs are experts in dealing with. They have a unique ability and skill in being able to see young men struggling with this new world that they're growing up in and recruit them. And yet our public schools, our police, our politicians, our media, are almost giving up this fight. We're retreating from that battleground. We're saying, we don't talk about men…We are leaving a space here that is being filled by destruction.
Far south of the Canadian border, author AJ Watson describes it this way:
Part of the allure of gangs is brotherhood—even if it's one filled with violence and dead-end prospects. According to the U.S. Department of Justice, most members join gangs between the ages of 12 and 15. It's a delicate time, and in at-risk environments where positive adult male role models are scarce, due in part to high rates of incarceration and death, many boys are left searching for guidance on their journey into manhood. It helps to have strong male mentors meet those outstretched arms before the streets do.
Here's an inspirational thought: Where one starts in life doesn't have to doom someone to a bad life.
Enter role models who are competent, smart, kind, educated, gainfully employed, many are Christian, and yeah…they're all black men. Far from Marc Lamont Hill's "mediocre Negroes" these are great men on a mission whether they met with President Trump or not.
There's a resurgence of real men who may be silent types, athletes, or media personalities. Their backgrounds and IQs and work skills may be different, but there's one thing they all have in common:
Resurgence is in their hearts.
Titus 2: 6 "Similarly, encourage the young men to be self-controlled. 7 In everything set them an example by doing what is good. In your teaching show integrity, seriousness 8 and soundness of speech that cannot be condemned, so that those who oppose you may be ashamed because they have nothing bad to say about us."
Enter Steve Harvey. Yes, Steve Harvey met with President Trump not because he voted for him (Harvey endorsed Sec. Clinton), but because Steve Harvey is already trying to use his celebrity to make things better for others. To live a legacy greater than comedy, talk radio, and family feuds.
"Our president (Obama) asked that all of us sit down and talk to one another in order to move our country forward," the host of Family Feud and The Steve Harvey Show noted in a statement posted to Twitter. "The transition teams on both sides asked me to meet and I'm glad I did."
Harvey said that Trump "immediately got (HUD secretary nominee) Dr. Ben Carson on the phone to begin dialog in looking for programs and housing to help our inner cities." He added that the president-elect "seems very open to my mentoring efforts across the country."
He added, "I walked away feeling like I had just talked with a man who genuinely wants to make a difference in this area. I feel that something really great could come out of this."
I'm excited about the possibilities too, Mr. Harvey. Thanks for being the man! We know you're not perfect. No one is, but America and indeed the world need more men like you! Resurgent men, ready to make a difference!
While Black History Month is still a few days away, why wait? I believe any time is always a good time to start shining a spotlight on the best and brightest among men who are already mindful of the need for Resurgence of Black Manhood and the blessing it can be to all of America!
===
The full Resurgence Series was devoted to highlighting the extraordinary efforts of black men to elevate the black community and included:
http://seminarygal.com/steve-harvey-and-black-manhoods-resurgence/

http://seminarygal.com/steve-harvey-resurgence-and-faith/

http://seminarygal.com/supreme-court-justice-clarence-thomas-and-resurgence/

http://seminarygal.com/benjamin-carson-on-success-and-resurgence/

http://seminarygal.com/jim-brown-and-black-resurgence/

http://seminarygal.com/shelby-steele-resurgence-and-political-correctness/

http://seminarygal.com/walter-williams-and-the-resurgent-solution/

http://seminarygal.com/resurgent-man-jason-riley-analyzes-the-problem/

http://seminarygal.com/resurgent-man-benjamin-watson-values-life/

http://seminarygal.com/politicized-church-a-two-word-problem/

http://seminarygal.com/resurgent-solutions-of-guiding-and-mentoring/