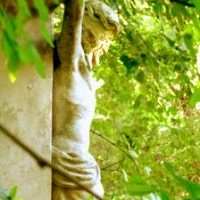 It's Good Friday –a day to remember the way Jesus Christ suffered and died.  To remember how He bore our sins through His death on the Cross. 
Think about all His sufferings and how the insults we have issued to brothers and sisters (in humanity and even now in Christ) fell upon Him.  Insults to each other in addition to all of our collective insults to God Almighty directly!
It's amazing how many ways we can inflict wounds upon our fellow believers and how often those conflicts are over theologically insignificant matters that we should learn to accept under the umbrella of diversity.  We insult God when we harbor ill will toward others instead of acting as we are instructed by today's passage:
For the kingdom of God is not a matter of eating and drinking, but of righteousness, peace and joy in the Holy Spirit,  because anyone who serves Christ in this way is pleasing to God and approved by men. (Romans 14: 17-18, NIV)
Someone must pay for all these insults (both personal and collective) in order for God to be a righteous Judge.
 For even Christ did not please himself but, as it is written: "The insults of those who insult you have fallen on me." (Romans 15:3, NIV)
David, the author of the Psalm quoted in Romans 15:3 had guilt, but Jesus Christ–the Son of David, the Son of Man, the Son of God–did not.  In order for Good Friday's insults to be dealt with completely, Jesus had to be numbered among the transgressors.
Read the account of the last hours of Jesus' life in Luke 22:63-23:46.  See the insults He endured and how it was fulfilled,
For even the Son of Man did not come to be served, but to serve, and to give his life as a ransom for many." (Mark 10:45)
* * *
Give it up for Lent: Heaping insults upon Jesus by mistreating each other
 * * *
For further study,
Read

Psalm 69

, how does it speak of the ocean of insults?
Read Isaiah 53, the passage about the Suffering Servant.  How did this apply to Jesus?
When Jesus says in Luke 23:34 "

Father, forgive them, for they do not know what they are doing

," how does this apply to us today?  Does it apply to non-Christians as well as to believers when we insult others? 

Do we realize that, as Christians, we heap insults upon God in whose Image all humans are made when we insult our neighbors?  Think about Jesus' call to love our enemies.  Why would He have told us to do that?