Reformation Day is complicated, even after 500 years of celebrating it. You see, I have many Christian friends who worship in the Roman Catholic Church. For them, it is a familiar worship tradition, a family where they feel at home with Christ, and a place where they learn about our Lord and Savior Jesus Christ. They enjoy community among the faithful and have personal piety as devotion to their Lord. I have many Christian friends who worship in Protestant churches of all denominations. They too enjoy familiar worship traditions, the community of believers, and eagerly learn about Jesus and worship of Christ Alone. For them, the individual decision to follow Jesus moves their hearts to worship, prayer, and obedience. For most of my friends, they believe that Christ Alone is Lord and To God Alone Be Glory, (Soli Deo Gloria), the last of the 5 solas we'll look at with the Reformation we celebrate today on its 500th anniversary.
As I look back over 5 centuries of church tradition, persecution, and growth, I see a Church constantly wrestling with who it is and who it should be, set apart from a world of sin. That's what moved Martin Luther to nail "Ninety-five Theses" to the castle door of the church in Wittenberg.
Since the Reformation, the Church wrestles with each other's purity and identity so much that we seem to forget Christ Alone is our central bond whether Catholic or Protestant. I recall the powerful little book, The Mark of the Christian by Francis A. Schaeffer and what he calls the final apologetic—unity in love for the brethren—that gives glory to God Alone.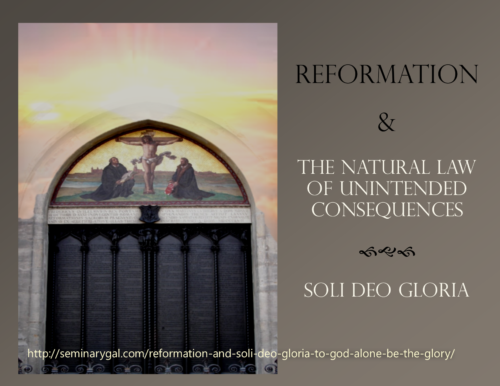 In light of pure desire for biblical unity so the world may know Jesus Christ was sent by our Father and for God's glory, I will admit to an uneasiness, even sadness, when I read nationally-acclaimed pastor John Piper saying about the Reformation,
"I will be celebrating that the finished and complete work of Christ in providing imputed punishment for our sins and imputed perfection for our righteousness was once for all and cannot be reenacted in the Roman Catholic Mass so as to become a necessary point of transfer of that decisive grace purchased once for all for us and given to us through faith in Christ alone…. I have mentioned before in this podcast just last summer's experience in Europe where a nun was converted at eighty years old and had never read the Gospel of John. So, a Roman Catholic professional religious woman never had read the Gospel of John. That is symptomatic of a deep evil in cutting people off historically and, today, doing things that subtly discourage the personal encounter with God through Christ in his word."
Right words are there, yes, but also unmistakable zingers hidden like verbal landmines, trip wires, or sniper fire felt intensely by those who worship Christ Alone, just in a different—equally flawed—setting.
The greatest unintended consequence of the Reformation is precisely this kind of division and spiritual pride, and how it robs God. Shouldn't it be Soli Deo Gloria, (To God Alone Be Glory)?
The truth is that for every Catholic I know who relies upon priests, I know Protestants who practically worship their pastors, their professors, and/or their theologians, even Martin Luther, even John Piper.
For every Catholic I know who thinks Mary had anything to do with the work of salvation, I know Protestants who believe it doesn't matter how they live because God loves all people and everyone is universally saved.
For every Catholic I know who thinks baptism at birth into community saves them, I know Protestants who believe they are saved because they prayed a prayer and made a personal decision.
For every Catholic I know who thinks that works earn one a place in heaven, I know Protestants who think that random acts of kindness and going to church on a Sunday are going to cut it.
On this 500th anniversary of the Reformation, let's leave the zingers behind and focus instead on the 5 solas.
Sola Scriptura and how Scripture Alone gives us authoritative Truth as the Word who was made flesh.
Sola Gratia and how Grace Alone makes salvation possible. It's a gift of God. There's no boasting.
Sola Fide and how Faith Alone is our invitation for Christ to dwell our hearts to show us His love and power, to know Him by experience.
Solus Christus and how Christ Alone saves. He is the all-sufficient capstone of our salvation, central figure around whom all good theology is built…totally worthy of our worship, and
Soli Deo Gloria, reminding us that To God Alone Be Glory and He will never give His glory to another god, but He'll give us glory so that He'll receive even more when we live for Him. John 17:20-23
===
The 5 Solas of the Reformation began on October 26, 2017 and can be found in the archives.