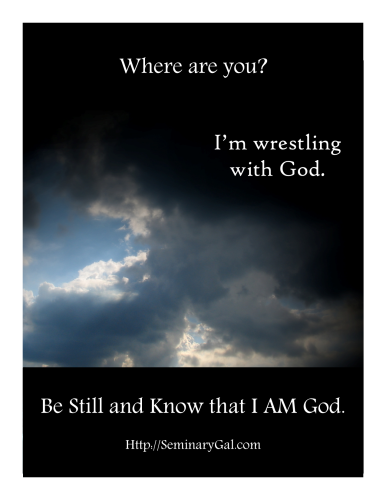 Where are you?  And why are you wrestling with Me?  You do realize how pointless trying to overpower Me is, don't you?
NAS Genesis 32:24 Then Jacob was left alone, and a man wrestled with him until daybreak. 25 And when he saw that he had not prevailed against him, he touched the socket of his thigh; so the socket of Jacob's thigh was dislocated while he wrestled with him.
What I find really interesting about the passage above is that it says Jacob was left alone (i.e. there was no one else there).  Yet there was Someone Else there.  This is one case in which I really do not like the NIV translation and will opt for another.  It's not theologically correct that God "could not overpower him" (as if God and man are power equals) but theologically speaking, the words used form a strong statement about the free will that God gives us to wrestle with Him and to engage with Him as His image bearers.
We are not gods.  We are God's image bearers and yet we wrestle with what it means to bear His image.  He tangles with us so that we will wrestle with our identity and our faith.
God might look at Jacob and look at us and ask us all,
What does wrestling with God say about your trust in your own capabilities versus your faith in God?"
Are you trusting in your strength?  In your flesh?  In the things you can do to remedy what problems are ahead?
There's a difference between wrestling to hold tight and wrestling to get away.
What can wrestling with God do to build your faith? To give you confidence in your Creator? To give you strength to press onward? Jacob ends up with a dislocated hip as evidence that His Creator knew how to disable him and had plenty of power remaining at His disposal.  God could have destroyed him.  Even so, Jacob wouldn't let go.
NAS Genesis 32:26 Then he said, "Let me go, for the dawn is breaking." But he said, "I will not let you go unless you bless me." 27 So he said to him, "What is your name?" And he said, "Jacob." 28 And he said, "Your name shall no longer be Jacob, but Israel; for you have striven with God and with men and have prevailed." 29 Then Jacob asked him and said, "Please tell me your name." But he said, "Why is it that you ask my name?" And he blessed him there. 30 So Jacob named the place Peniel, for he said, "I have seen God face to face, yet my life has been preserved."
Jacob's free will holds onto God and will not let go until God blesses him.  When is the last time you held onto God like that?  Where are you?
Be Still.  Holding tight to Me is exactly where I want you.
Be Still.  All that wrestling is wasted energy if you're trying to get away from Me or trying to beat Me at the power game.
Be Still and Know that I AM God.  NAS Genesis 32:28b "for you have striven with God and with men and have prevailed."  Here's a huge confidence builder: You have prevailed…even before you head to meet your brother whom you fear.  You have already won.  You did it by clinging to Me.  Know that I AM God and have the power to spare your life now and always.
Questions for reflection:
When is the last time you wrestled with God… or with His will for your life?
Imagine holding onto a dog or a cat that didn't want to be picked up.  It squirms and whines and sometimes bites in an attempt to get away.  The last time you wrestled with God, did you wrestle to cling to Him or to try to get away from Him?  Why?
How can you Be Still even when wrestling?