Today's carol in our Carol Me, Christmas (2014 Advent Devotional Series) is arguably the all-time favorite Christmas carol of many people.  It's often sung as the final song at Christmas Eve services to the glow of handheld candles.  It's beautiful.  It's peaceful.  It's sentimental.  It's Silent Night, Holy Night.
I don't want to be the one to destroy all the romanticized stories regarding its origin.  So I'll let hymns and carols of Christmas.com break the news.
The traditional story is that Rev. Josef Mohr (1792-1848) and Franz Xaver Gruber (1787-1863) wrote it in Oberndorf, Austria, on Christmas Eve when they discovered the church organ was damaged (different versions say it rusted out, or mice chewed through vital parts3). Charming as those stories are, they are fiction. In fact, in a letter written by Franz Gruber, son of the composer, he noted that "During the time when my father was the organist of the church of St Nikola, there was a very poor almost unusable organ there. This may well explain why the Reverend Mohr preferred to accompany the carol on a well-tuned guitar than on an off-pitch organ."
An old manuscript has reportedly been discovered that shows Rev. Mohr wrote the lyrics in 1816, and that Franz Gruber wrote the score two years later at Rev. Mohr's request (the manuscript is now located at the Salzburg Museum, Carolino Augusteum; unfortunately, the English version has disappeared).  Mohr never said what his inspiration was. Gruber did not disclose why Mohr made the request to add music to the poem (and you can safely disregard as purest fiction any stories about Mohr walking through the forest on a snowy night, or that invent any dialogue between the two men).
Seriously?  Of course, the original song was entitled Stille Nacht, Heilige Nacht (yes, it's German like many of the other hymns and carols we've enjoyed).  It all began when Joseph Mohr who was the curate of a church in Oberndorf gave his poem to Franz Gruber requesting a composition for two solo voices, a choir, and accompanied by guitar.
It was first performed in 1818 at the midnight mass on Christmas Eve.  Mohr played the guitar and was the tenor solo, Gruber was the bass solo with the church choir singing the refrains.
Every hymnal I have lists the English translation by Rev. John Freeman Young with the dates of translation and publication listed as 1863 though hymns and carols asserts it was published in 1859.  Who knows what to believe on the Internet?  (OK, I'm still in shock from the mice not chewing the organ.  I'd pictured Cinderella's mice…)
Theologically, I'd like to trust this hymn…even more than the stories of how the carol came about.  Although, no one really knows if the night was actually silent.  After all, stop and think about it: Bethlehem was buzzing about with a whole crowd of people who had come to register.
Luke 2:1 In those days Caesar Augustus issued a decree that a census should be taken of the entire Roman world. 2 (This was the first census that took place while Quirinius was governor of Syria.) 3 And everyone went to his own town to register. 4 So Joseph also went up from the town of Nazareth in Galilee to Judea, to Bethlehem the town of David, because he belonged to the house and line of David. 5 He went there to register with Mary, who was pledged to be married to him and was expecting a child
Why were they registering? To pay their taxes.  The Romans wanted a detailed understanding of who existed for both military service (from which Jews were exempted) and who could fund the government. A census to them wasn't like the US Census where they're looking to find out race, education, and household income.  Nope.  A census then was for the purpose of collecting taxes from both men and women.  (Yes, Mary had to go too.)  So here is the great irony, the most powerful man on earth, Caesar Augustus, issues a decree with the result that the most powerful man ever to be born would have His humble earthly beginnings in a manger.   And Bethlehem as prophesied in Micah 5:2 would be fulfilled.
Micah 5:2 "But you, Bethlehem Ephrathah, though you are small among the clans of Judah, out of you will come for me one who will be ruler over Israel, whose origins are from of old, from ancient times."
Whether the night was silent, calm, or bright, we will never know.  But we do know it was holy because that's how God would come to be among us.  And it was certainly clear enough for a star.  Jesus was the Holy Infant, He is our Savior, and He is Lord at His birth.  Strange to think that a baby would be Lord, but that's the truth and we don't need to take the Internet's word for it.
I hope I haven't ruined this hymn for you since I'm still reeling from that whole Cinderella's mice revelation, but maybe listening to this version will help you like it helped me.  Since I've spent recent days ripping Europe as in spiritual decline, this group is Dutch and sings Silent Night Holy Night as Stille Nacht.
Thought Focus for Today:  Consider how amazing it is that God uses such mundane things as registering both Joseph and Mary, both from the line of David, at Bethlehem to fulfill the prophecy regarding Jesus' birth.  What mundane thing in your life is God looking to use?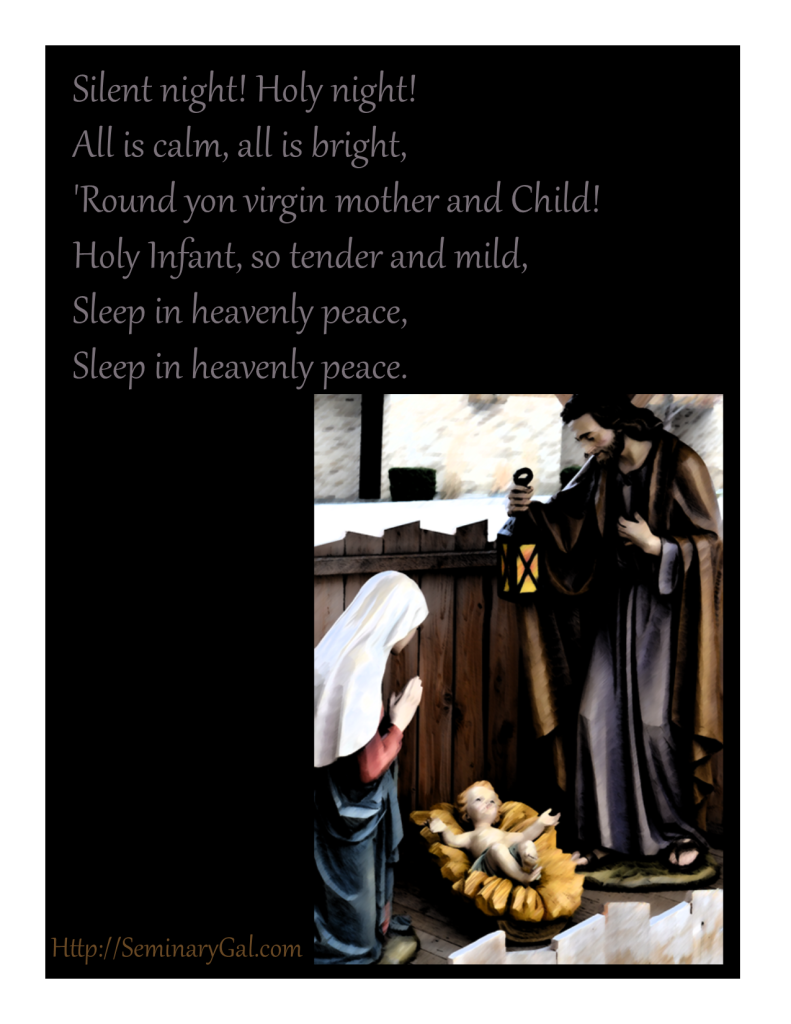 Silent night! Holy night!
All is calm, all is bright
Round yon virgin mother and Child
Holy Infant so tender and mild
Sleep in heavenly peace!
Sleep in heavenly peace
Silent night! Holy night!
Shepherds quake at the sight
Glories stream from heaven afar
Heavenly hosts sing Alleluia
Christ the Savior is born
Christ the Savior is born!
Silent night! Holy night!
Son of God love's pure light
Radiant beams from Thy holy face
With the dawn of redeeming grace,
Jesus, Lord at Thy birth
Jesus, Lord at Thy birth
======
Carol Me, Christmas (2014 Advent Devotional Series) began November 30th.  By way of reminder, if you haven't signed up yet, you can receive these devotional studies in your email throughout Advent 2014 by entering your email address on the SeminaryGal.com home page in the space provided in the sidebar.  Or "Like" the SeminaryGal Facebook page to access them there.  If you like these devotionals, I'd really appreciate your letting others know so I can continue to spread the Good News far and wide.  Blessings to you, in Christ always, Barbara <><