King David was where he shouldn't have been.  He was on the prowl when he shoulda been still.  He should have been with his troops out on the battlefield encouraging them to remain strong and faithful.  Instead he was on the rooftop and a war was raging inside him (2 Samuel 11).
Remaining strong and faithful wasn't on his mind.
Bathsheba was.
Had he been doing what he should have been doing and been where he should have been, he could have avoided a whole lot of problems.
Have you ever found yourself in a similar situation?  You end up in the wrong place at the wrong time to do the wrong things with the wrong people and it leads directly to sin.  And then sin leads to more problems and the more you try to cover it up, the worse it gets?
Sin will always take you farther than you want to go, make you stay longer than you want to stay, and cost you more than you'd ever want to pay.  David learned this lesson the hard way.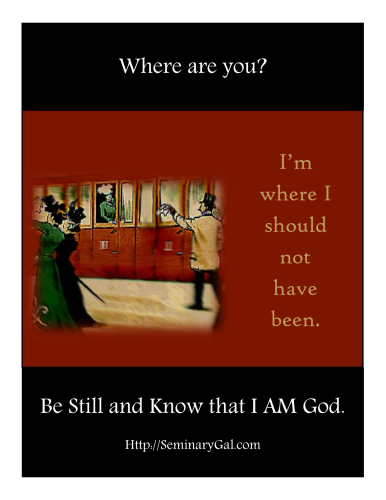 How did he ever get himself in this situation?  Well, one thing is for sure: he didn't inquire of the LORD on this one.
Life doesn't give us automatic do-overs.  We make mistakes, sin, fall short, do horrible things that we regret and we simply cannot rewind to the place where we headed down the wrong path and do what is right instead.  Yes, there is grace for the times we fail, but there are also consequences.
How can you avoid being in the wrong place at the wrong time doing the wrong things with the wrong people and end up in sin?  Be Still and inquire of the LORD.  That's a really good start.  If you follow the LORD at every step of the way you won't find yourself on the path of regret.
Do not forsake wisdom, and she will protect you; love her, and she will watch over you.  (Proverbs 4:6)
There's an analogy I like to use.  Imagine a westbound train.  You are standing on the platform and have a choice to board the train or stay on the platform.  Once you're on the train going westbound, you can run eastbound on board the train as fast as you want and you're still going to end up where the train is headed.  Stay off the train if you don't want to arrive at its destination.
Be Still.  You can avoid the shoulda-woulda-couldas of life.
Be Still.  I will never steer you wrong.  I will never lead you to sin.  I will guide you clear of it, if you'll let Me.
Be Still and Know that I AM God.  If you live according to My ways, you'll never have regrets.
Be Still and Know that I AM God.  The destination of heaven is worth it.  Trust Me.  I live here.
Questions for reflection:
What train platform are you standing on?  What train is boarding now and have you considered its destination?
What is the best way to live with no regrets?
Name a few decisions you've made that could not be undone.  How many of them are regrets either in timing or in having made that decision at all?
Read

James 1:13 "When tempted, no one should say, "God is tempting me." For God cannot be tempted by evil, nor does he tempt anyone; 14 but each one is tempted when, by his own evil desire, he is dragged away and enticed. 15 Then, after desire has conceived, it gives birth to sin; and sin, when it is full-grown, gives birth to death." 

Progressing from thought to word to action, where is the best place for stopping sin?