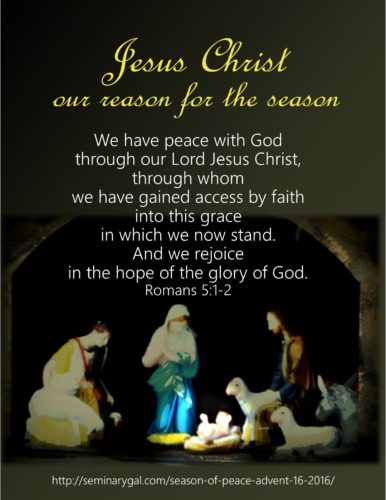 Sometimes I think it's a good idea for churches to advertise on their sign out front what they actually preach. The sign said, "Christmas is not just a season. It's a state of mind." If that's what they're actually teaching on the inside, I don't need to check it out. It will save me from a waste of time in the hectic holiday season of peace.
What exactly is a Christmas state of mind?
Is it like Billy Joel's "New York State of Mind." Full of nostalgia and scenes–feelings of give-and-take. Don't care if it's in Chinatown or on Riverside. Reality, you've let it slide. You don't need any reasons, you've left them all behind?
Uh, hello?
Jesus is the reason for the season. Leaving Him behind in your Christmas state of mind is missing the most important part of why Christmas should even register on our calendars.
Luke 2:10 But the angel said to them, "Do not be afraid. I bring you good news of great joy that will be for all the people. 11 Today in the town of David a Savior has been born to you; he is Christ the Lord. 12 This will be a sign to you: You will find a baby wrapped in cloths and lying in a manger."
In the Santa Baby world of materialism, the state of mind called "inner peace" will never intersect with reality. No accumulation of stuff as a Black Friday bargain to put under the tree will replace God's free gift of His Son, placed in a manger.
Nothing you can buy can replace what you can't: Jesus.
If this Christmas reality is what you've left behind, what He did for us in His birth, life, and death, then without Christ, your Christmas is just "mas" or maybe even más. Which will always be unfulfilling when it ends up back at the store, out at the curb, or in a box for the summer's garage sale. We need Jesus to intersect with our reality. It's only in Him that we will have peace with God.
Reflect today on how nothing else can substitute or give us that state of mind in this season of peace. Only Jesus is our Prince of Peace.
Romans 5:1 Therefore, since we have been justified through faith, we have peace with God through our Lord Jesus Christ, 2 through whom we have gained access by faith into this grace in which we now stand. And we rejoice in the hope of the glory of God.
===
Join me for Advent 2016 Devotionals called Timeless: the Message of Christmas for All Ages beginning November 27, 2106. Timeless hope, encouragement, grace, peace, and love will be ours as we look into the Word, see the face of our Lord Jesus, and experience restoration in His presence. His goodness and His Gospel are truly Timeless.
Advent began November 27, 2016. If you're already signed up on my Home Page sidebar to receive posts, you'll get the Advent devotionals automatically. If you haven't signed up, today is a great day to do so. Advent and Lenten devotionals remain among my most popular offerings. You don't want to miss this great way to prepare your heart for the true meaning of Christmas!