What, then, shall we say in response to this? If God is for us, who can be against us? He who did not spare his own Son, but gave him up for us all– how will he not also, along with him, graciously give us all things? Who will bring any charge against those whom God has chosen? It is God who justifies. Who is he that condemns? Christ Jesus, who died– more than that, who was raised to life– is at the right hand of God and is also interceding for us. Who shall separate us from the love of Christ? Shall trouble or hardship or persecution or famine or nakedness or danger or sword? As it is written: "For your sake we face death all day long; we are considered as sheep to be slaughtered." No, in all these things we are more than conquerors through him who loved us. For I am convinced that neither death nor life, neither angels nor demons, neither the present nor the future, nor any powers, neither height nor depth, nor anything else in all creation, will be able to separate us from the love of God that is in Christ Jesus our Lord.  (Romans 8:31-39, NIV)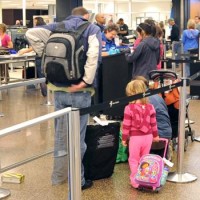 Recently, I traveled on a domestic flight out of Chicago O'Hare airport.  With "the sequester" in progress in the US, we thought we'd be standing in long lines for airport security.  Surprisingly, there was hardly any wait at all.
Of course there was the usual process: identification check, ticket check, shoes off, computer out, no belt, no metal, no weapons, quart-sized zippered plastic bag of miniscule amounts of liquids, gels, etc., and the inevitable luggage x-ray.  Then there's the full body scanner and a possible pat down…all in the name of security.
Yes, it's inconvenient, and a lot to go through, but it's nice having a sense of security.
Even so, when we got to our destination, we heard news reports of the failures of the safety protocol and people getting through airport security with bombs in their pants.  Good grief, I don't even want to think about what comes next for the law-abiding among us.
I was thinking about security because today's passage (Romans 8:31-39  also above) talks about it.  You see, we're all under a death sentence because of sin.  We're not faced with mere terrorism—humanity is faced with total annihilation.
And yet, we can have security from this enemy.  It doesn't require quart sized bags and scanners.
Our greatest security measure is nothing less than God Himself.
Look at the laundry list of enemies in the verses above!
Yet God's security measure is His love shown to us in Jesus Christ. 
He took our sins. 
He conquered death. 
In Him, we have the same victory.  Now that's security!
* * *
Give it up for Lent: Fear that something will separate you from God
* * *
For further study:
In 65 verses of the Bible (in the NIV translation), it reads "Do not be afraid."  Why do you think God takes such pains to remind us…indeed He commands us…not to fear? 

What does fear suggest about our view of God's security?

Read 1 Peter 3:8-22.  Does freedom from fear equal freedom from persecution or trouble?  What does Jesus say about that in John 16:33?