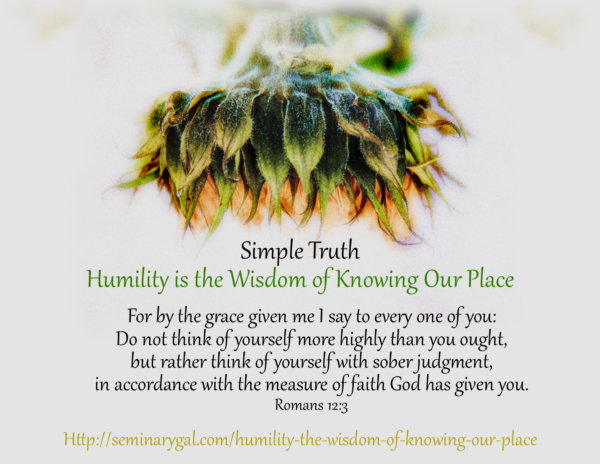 .
Do you know your place? Are you naturally humble? Or is it something you find difficult, maybe always preferring the visibility of a top job, a leading role, being that go-to-person, or the king (or queen) of the hill?
The minute you start thinking about displaying humility, you've already lost. Humility is not a contrived action or attitude. You can't manufacture it or fake it. It comes from the wisdom of knowing our place.
The Apostle Paul, in his masterpiece of Bible explanation, writes, Romans 12:1 Therefore, I urge you, brothers, in view of God's mercy, to offer your bodies as living sacrifices, holy and pleasing to God– this is your spiritual act of worship. 2 Do not conform any longer to the pattern of this world, but be transformed by the renewing of your mind. Then you will be able to test and approve what God's will is– his good, pleasing and perfect will. 3 For by the grace given me I say to every one of you: Do not think of yourself more highly than you ought, but rather think of yourself with sober judgment, in accordance with the measure of faith God has given you.
In view of God's mercy. Pleasing to God. Worship. Who's King of the hill and King of kings and Lord of lords? God.
What's our place? Do not conform to the world's ways because God's ways are higher and better.
How was Paul able to be a leader, a brilliant scholar, an accomplished apologist, the most powerful writer of the majority of the New Testament and yet be so humble? On the Road to Damascus (Acts 9:1-22), he'd learned his place. He was completely broken and humbled and realized the unmistakable, unchangeable, unrestrainable power of God. When God has done that to you, it's a lesson you never forget. Humility is the wisdom of knowing our place.
Do you know yours or are you still partnering with the world?
===
Lord Jesus, thank You for the grace and humility You displayed during Your time on earth, even as You were the most powerful leader this world has ever known. Remind me always that the power of even a 3-year ministry can be life-changing for another human being so long as we know our place of continually pointing to You.