If fear of God is the beginning of Wisdom and Jesus is the Way, the Truth, and the Life, then knowledge, true knowledge, is the wisdom of acknowledging the truth.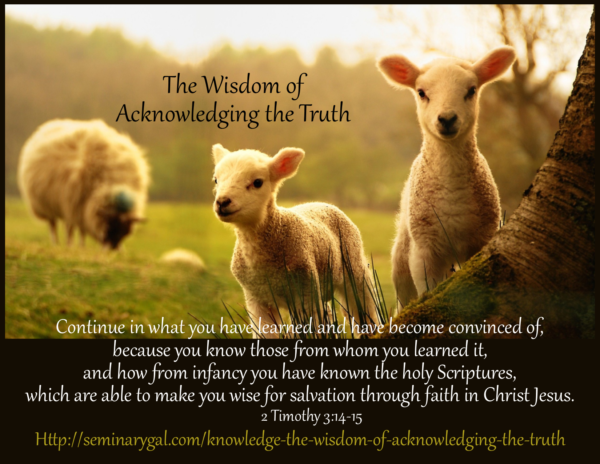 Perhaps one of the saddest statements in all the Bible is about Jannes and Jambres. (Who?) Yeah, I know. They're mentioned only once (2 Timothy 3:8), but these two are forever identified for the historical record as opposing the truth. Learning, learning, learning.
Always learning but never able to acknowledge the truth. Isn't that sad?
Do you know people like that? I do. They might have a list of degrees as long as my arm. They may be able to spout chapter and verse of the Bible even. Their heads may be full of facts and figures and history and peer-reviewed articles. They may be able to speak and read multiple languages. They may have a brain full of high IQ knowledge, but none of that knowledge has made it through the toughest 12-inch journey of discernment … from the head … to the heart.
The Bible tells us this is a sign of the last days.
2 Timothy 3:1 But mark this: There will be terrible times in the last days. 2 People will be lovers of themselves, lovers of money, boastful, proud, abusive, disobedient to their parents, ungrateful, unholy, 3 without love, unforgiving, slanderous, without self-control, brutal, not lovers of the good, 4 treacherous, rash, conceited, lovers of pleasure rather than lovers of God– 5 having a form of godliness but denying its power. Have nothing to do with them. 6 They are the kind who worm their way into homes and gain control over weak-willed women, who are loaded down with sins and are swayed by all kinds of evil desires, 7 always learning but never able to acknowledge the truth. 8 Just as Jannes and Jambres opposed Moses, so also these men oppose the truth– men of depraved minds, who, as far as the faith is concerned, are rejected.
As if rejection in the faith wasn't bad enough (and that's eternally bad), these guys go down in human history as not only opposing the truth with depraved minds, but everyone knows it. 2 Timothy 3:9 But they will not get very far because, as in the case of those men, their folly will be clear to everyone.
Don't be like those guys.
Paul says, 2 Timothy 3:10 You, however, know all about my teaching, my way of life, my purpose, faith, patience, love, endurance, 11 persecutions, sufferings– what kinds of things happened to me in Antioch, Iconium and Lystra, the persecutions I endured. Yet the Lord rescued me from all of them. 12 In fact, everyone who wants to live a godly life in Christ Jesus will be persecuted, 13 while evil men and impostors will go from bad to worse, deceiving and being deceived. 14 But as for you, continue in what you have learned and have become convinced of, because you know those from whom you learned it, 15 and how from infancy you have known the holy Scriptures, which are able to make you wise for salvation through faith in Christ Jesus.
It's not a matter of how much or even what subjects you know, except one subject: it's Who you know. The best kind of knowledge is the learning that makes you wise for salvation through faith…the wisdom of acknowledging the truth.
===
Father God, please help us in these last days before Your Son Jesus returns, for us to remain strong and faithful. Preserve us in Your truth. Keep us from being deceived. Help us to continue reading the Scriptures and moreover, to keep believing them. Remind us at all times than an accumulation of secular news is no match for the investment of storing up Your Word in our hearts and looking to You for wisdom. Discipline our minds so we will not be deceived by the arts of the evil one who is running unleashed upon our world. We ask Lord for Your continual reminder that You conquered death on the Cross. No adversary can stand against You. No power is greater than Your own. Keep our eyes fixed, awaiting Your return. Keep us safe, Lord, by the power of Your Holy Spirit. Amen.