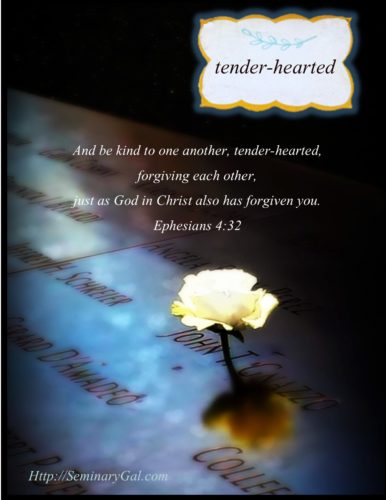 Today is the 15th anniversary of the terror attack upon the Twin Towers of the World Trade Center. Any of us alive and of an age to remember anything probably remember how we felt, where we were, and the deep, deep sorrow for a world that had-in a span of dark minutes-breached every code of human decency. Remembering this event arouses not only a righteous anger against that kind of evil, but it also stirs the wellspring of love and compassion in the soul and spirit of the tender-hearted. Of the exemplary Christian.
Tender-hearted people never grow stale in their love, their empathy, or their sorrow. The tiny virtue of a tender heart is the evergreen source of the bigger virtues of love and compassion.
A tender heart we cannot see but for its outflow.
And be kind to one another, tender-hearted, forgiving each other, just as God in Christ also has forgiven you. (Ephesians 4:32)
Mary Magdalene had that kind of tender heart. In John 20:1-18, she discovers that the stone has been removed from the entrance to the tomb in which Jesus was buried. She was so distressed, she ran all the way to tell the disciples Peter and John. They came, they saw, they left…confused. Mary didn't leave. Her tender heart caused her to cry. Moved with love, overcome by sorrow, she just stood there weeping. Her heart reached beyond the fact of death and the reality of the grave. Jesus met her there and spoke the Good News to this beautiful woman that He is risen. Death and the grave couldn't hold Him down.  Because of His victory over evil, death and the grave can't hold Christians down either.
As we continue to honor the lives of the men and women who died on 9/11, we will see the phrase #NeverForget. We remember the lives which have been lost, the bravery of those who loved others more than themselves, the people living through the daily hell of remembering that day in which their lives were forever changed, the children who have grown up with this as their family's story, and the nation with deep wounds carved with a jagged knife of evil but capable of being healed by the powerful hand of God. Day by day, may God bless us with hearts that do not grow weary. Let us not grow cold. Let us not be moved from that powerful tiny place of a tender heart from which flows all kindness, love, compassion, and yes, forgiveness.
Ponder today: how a tender heart is evergreen
Bible character of the day: Mary Magdalene