Repentance is only one side of the coin. The other side is self-control. It's one thing to repent, do the sin again, and repeat as if it's a cycle and acceptable to do it over and over.
Self-control is one of those things that we want but we don't. We want all the power and control in the world, especially over our own lives. But do we want the temptation and responsibility that come with it?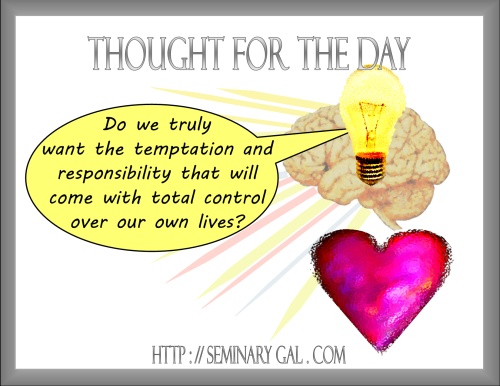 I was thinking about this the other day…a philosophical question.
I am the kind of person whose mind envisions things of beauty that I lack the skills to bring into being. Sculptures that I wish I had equipment and know-how to create. Quilts that would be lovely to behold. Computer graphics and artwork stunning to the eye.  Clothing designs I wish I could manufacture.   The list goes on and on.
I found myself wondering,
If I could dream-it-do-it in creating things of beauty and cures for diseases presently harming those I love, would I want to have that skill? Would I still want the power of taking my mind and turning it to reality, if that power could be misused? If someone with an evil mind could also dream-it-do-it since I could, or if I could be seduced into using my gift to unwittingly harm others?"
I think of Romans 7:21 "So I find this law at work: When I want to do good, evil is right there with me." It's kind of like in Lord of the Rings when Frodo wants to give the ring of power to Gandalf.
Frodo: [holding out the Ring] Take it Gandalf!
[Gandalf backs away]
Frodo: Take it!
Gandalf: No, Frodo.
Frodo: You must take it!
Gandalf: You cannot offer me this ring!
Frodo: I'm giving it to you!
Gandalf: Don't… tempt me Frodo! I dare not take it. Not even to keep it safe. Understand, Frodo. I would use this ring from a desire to do good… But through me, it would wield a power too great and terrible to imagine.
Do we have the kind of self-control to reject even the temptation to sin, understanding that our desire might be good, but our nature is sinful?
Jesus talks about that in Matthew 5: 27 "You have heard that it was said, 'Do not commit adultery.' 28 But I tell you that anyone who looks at a woman lustfully has already committed adultery with her in his heart. 29 If your right eye causes you to sin, gouge it out and throw it away. It is better for you to lose one part of your body than for your whole body to be thrown into hell. 30 And if your right hand causes you to sin, cut it off and throw it away. It is better for you to lose one part of your body than for your whole body to go into hell."
Give it up for Lent: Desire for control
Questions from Romans 7:21 and Matthew 5:27-30:
Evil can be considered the shadow existing in the darkness behind every good desire. What does Romans 7:21 say about that?
How can knowledge of this help to rekindle self-control?
When Jesus tells us to get rid of what causes us to sin, how does this inform a rekindling of self-control?
What distinguishes self-determination from self-limitation?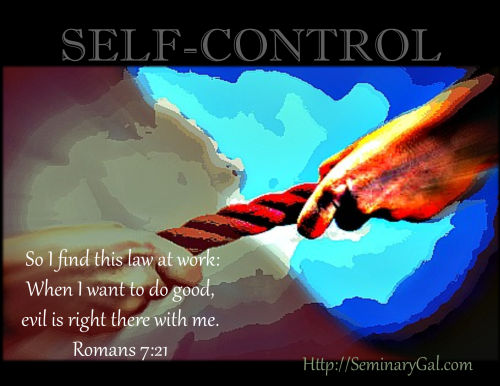 ReKindle is the 2016 Lenten devotional series from Seminary Gal.
To receive these devotionals to your email inbox throughout Lent, please fill in your email address in the space provided on my Home Page in the sidebar (right) and respond to the verification email.  If you already receive devotionals and articles, no need to do anything else.  You'll get them automatically.  Thank you!  Or log onto the SeminaryGal Facebook page and see them reprinted there.
Acknowledging that former years' devotional series remain popular, Be Still and Know that I AM God can be obtained through the archives beginning in March 2014 and With Christ in the Upper Room  is archived beginning February 18, 2015.