John 15:12 My command is this: Love each other as I have loved you. 13 Greater love has no one than this, that he lay down his life for his friends. 14 You are my friends if you do what I command.
Most of us could probably use some help in the sacrificial love category.
Maybe we're pretty good at other forms of love.  Consider how easy it might be to love those who love you, assuming you want them to love you. Or how easy it is to love those who do good things to you and for you, kind of like your very own fairy godmother. Those who make your life better or who enrich your days in one way or another, acting as a personal benefactor.
Such a love is more of a response than an initiation.
It's an "I love you because…" and a fill-in-the-blank that's easy to identify.
Sacrificial love is different. It's not I love you because…., but I love you period.
Yes, it's because Jesus loves you and me and He commands it.
But it's also a love completely without conditions.
Rekindling one's love for others hinges upon this idea: Greater love has no one than this, that he lay down his life for his friends.  You are my friends if you do what I command.
A rekindled love is a sacrificial love. One that loves others whether they deserve it or not. One that loves even really unlovable people because Christ loved first. Oh Lord, rekindle my love to be like Yours!
How is that possible?  Loving unlovable people requires understanding two important things: First, unlovable is what all of us are in God's book on account of our behavior, but importantly, there's second thing.  Underneath all that behavioral and thought sin and gunk that God finds so detestable is a very lovable image of God in which each of us are made.  If we appreciate His Image and acknowledge His love, we will find loving others easier.  And something definitely worth sacrificing ourselves for.
Give it up for Lent: Judging others as not worth loving.
Questions regarding John 15:12-14.
Does Jesus suggest, hint, intimate, or command that we love? What about a command makes it imperative?
In the Gospel of John, Jesus had not gone to the Cross yet. How did today's passage prepare the disciples to interpret His actions as a perfect standard of sacrificial love attained?
When we act selflessly to help others and to love them sacrificially, how does this move the embers together in community and rekindle love?
In John 15: 12-14, what are the human interactions involved?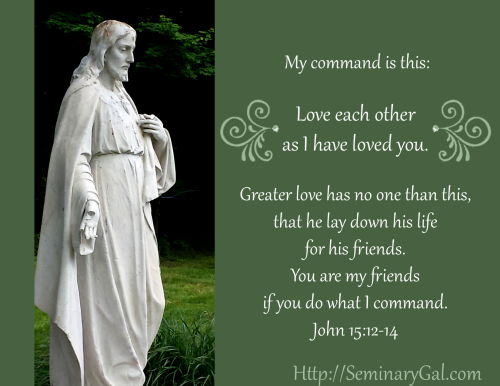 ReKindle is the 2016 Lenten devotional series from Seminary Gal.
To receive these devotionals to your email inbox throughout Lent, please fill in your email address in the space provided on my Home Page in the sidebar (right) and respond to the verification email.  If you already receive devotionals and articles, no need to do anything else.  You'll get them automatically.  Thank you!  Or log onto the SeminaryGal Facebook page and see them reprinted there.
Acknowledging that former years' devotional series remain popular, Be Still and Know that I AM God can be obtained through the archives beginning in March 2014 and With Christ in the Upper Room  is archived beginning February 18, 2015.