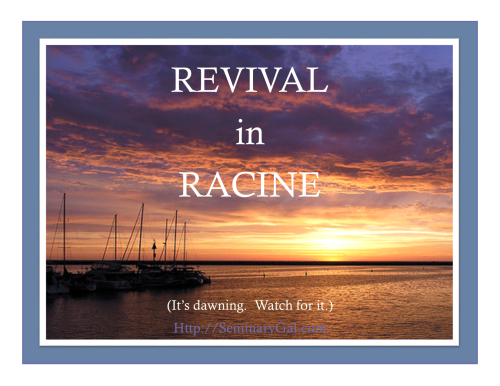 This is our weekly Revival Prayer (week 1).
Lord, we honor You as God—as the One who is the First and the Last, the Living One; You were dead, and now You are alive for ever and ever! You hold the keys of death and Hades. You are the Head of the Church, your bride.  You are the Word of Truth and possess all wisdom.
All of your people sin every day, yet Father, You love us and gave Your Son for us so that we might have eternal life with You.  We thank You for forgiveness of sin.  We thank You for allowing us to share in the work You are doing.  We thank You for the Holy Spirit and for the mysterious way He dwells in all who believe in Your Name and trust Jesus died as payment for our sins.  We thank You for the way You draw people to Yourself.
We ask, LORD, that if anyone is near today who doesn't know You as God, that they would be bold and seek out someone here—in the comfort of family—who can tell them of the Way.  We thank You that the Kingdom of God is advancing and growing and for the way You delight in using Plymouth Church to do our part.  We thank You that Your Holy Spirit is the gift worth waiting for.  We thank You for the way He lives in us to teach us, to guide us, to remind us of how good You have been to us.  Grant us wisdom, courage, joy, and patience as we look for Your return.  May we be found faithful, Lord Jesus. Amen.