Palm Sunday is the beginning of Holy Week and so our regular Lenten devotional series, Be Still and Know that I AM God, will continue tomorrow.
Palm Sunday merits a devotional day all on its own, however, because it's a high point of the church known as the Triumphal Entry (a day in earthly time remembering celebration of the arrival of the long-awaited Messiah).   From that point during the week, it's all downhill from a human perspective.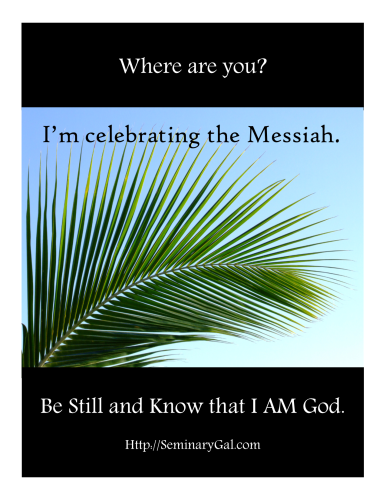 On Palm Sunday, people are waving palms and cheering "Hosanna," celebrating Christ Jesus as King.  A mere 5 days later, they're demanding His death.  During the next 5 days of earthly time,
People will fall away.
The crowd will brood with unmet expectations.
They will conclude it's just another false Messianic hope.
The Pharisees, scribes, and teachers of the Law will conspire against Jesus who is seen as a blasphemer, or at least someone stealing their thunder.
The onlookers and believers—once a crowd of countless people pressing in on Jesus—will be gradually peeled off until all that's left are the 12 disciples, Jesus, and a handful of women.
The Last Supper will be shared and the disciples will still be fighting amongst each other, not understanding what's happening.
Of the 12 disciples, Judas will betray Jesus and the other 11 will all deny Him, even Peter who promised Jesus that he wouldn't.
An insurrectionist will be freed and the Innocent One will be sentenced to die on the Cross.
Friday will come and Jesus will be dead.
Why do I dwell on all this sudden change? 
Because in the Church, it is far too easy to go from pinnacle to pinnacle without descending into the valley of the shadow of death.  We want to run straight from singing Hosanna to Christ the Lord is Risen Today.  All that stuff in between is unpleasant for us to think about.  We don't want to consider what had to happen to Jesus and our role in it.  So we blip from peak to peak without peeking into the valley where the battle was fought and the victory won.
But it's the steps down into death and the rising from it that form the true meaning of what it means to be a follower of Jesus Christ.
Ephesians 4: 8 This is why it says: "When he ascended on high, he led captives in his train and gave gifts to men." 9 (What does "he ascended" mean except that he also descended to the lower, earthly regions? 10 He who descended is the very one who ascended higher than all the heavens, in order to fill the whole universe.)
Jesus never said that He would go to Jerusalem hailed as an earthly king and remain that way, gathering armies of warriors, fighting earthly battles, and doing things earthly ways.  He said He was going to His death.
Permit yourself as the week unfolds to remember that the valley of the shadow of death was where Jesus descended in order to deal with human sin so that Easter would have real meaning.  So the empty tomb would have real meaning.  Without dying, there would be no victory.
So it is with us, we need to die to ourselves and to seeing our lives as not really needing redemption.  Die to seeing ourselves as not really requiring salvation.  As if we were maybe good enough on our own to be saved without Him.
Today and for the next 6 days, step into the valley and see the work Jesus did in a new light.  The shadow of death may be blackest black, but Jesus is the Light of the World.