It's September, official My Summer Garden is Past its Prime Month.  With the decreasing amounts of sunlight and the wear and tear of the summer's heat and typical drought/deluge watering of Illinois summers, the plants in my garden start to look a little…oh…shabby.  With the first crisp nights dropping into the 50s, I start to think about overwintering plants.
Why overwinter?  Well, these plants have a few things to say about it: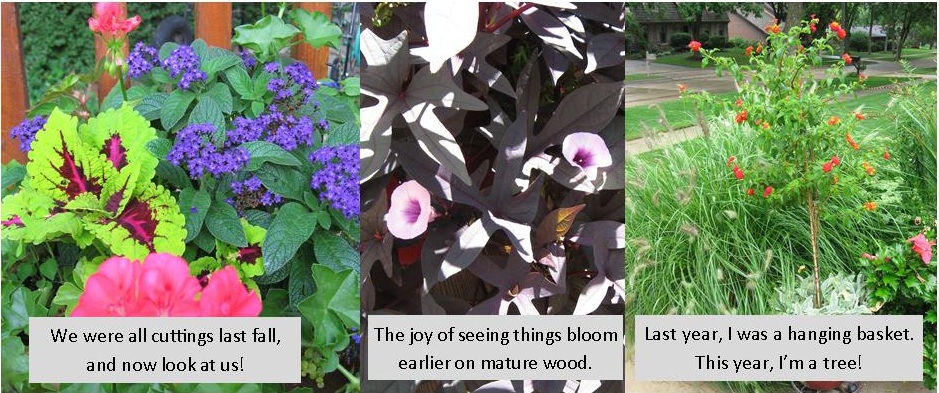 There are several different things I do to overwinter plants.
Some (like coleus, marine heliotrope, begonias, lantana, geraniums, and polka dot plants) respond well to cuttings for bringing inside.  I spray the plants with a systemic insecticide at 7 day intervals for 3 weeks while they are still outdoors so that by the time I take cuttings, I won't be bringing any insects in with me.  I also do not spray insecticides in the house, so if it's going to get done, it will be done outside.  Many of the cuttings root in water very easily.  I have a heating mat that I use for the cuttings of polka dot plants and geraniums (rooted in vermiculite) since it seems to help in both instances.  If I'm rooting something in either sand or vermiculite, I use rooting hormone which helps to give the cuttings a good jump start.  I haven't bought a coleus (except to increase my collection) in years.  Easy to root.  Cheerful in my kitchen window all winter.
Some plants go into a warmer place.  I have a garage named Arkansas and a basement named Florida.  The Crape Myrtle goes into the garage because it's WAY too heavy to haul down the basement stairs.  It snuggles next to the interior wall of the garage and I water it with a tiny bit of cold water periodically.  Keeping it dry and using cold water when I do water ensures it will not break dormancy.  The amazing Mandevilla vine that was a 6″ pot last year (because I'm cheap and don't want to buy the biggest plant I can find) overwintered last year in the basement and this year it's taller than I am and growing on an obelisk.  I will do this year what I did last year by letting it go dormant.  I kept it quite dry, in the basement near a window, with supplemental lighting.  As the day lengths begin to increase, I increased the hours of fluorescent lighting and began to water it a bit more.  When the weather got warm enough to put it outside, then fertilizing it began in earnest.  I think I'm going to try the same thing with the gloriosa lily that hasn't been the happiest camper on the block.  It's much better than it was last year at this time, so we're going to give it a shot and see if it just needed to mature.
Some plants will be snuggled next to the foundation of the house.  Last year, I overwintered a river birch in a pot by covering the whole pot with frost cloth and putting it in a warm little corner outside near the chimney.  Of course, I needed to shovel snow on it periodically so that the pot could stay watered.  Again the key is to keep it from breaking dormancy before the weather improves.  I'll try that technique again this winter since previously I've only been able to keep Dwarf Alberta Spruces through the winter in pots.  Last winter was unseasonably mild, but hey!  I got two years out of a tree I bought for portable shade for a hydrangea that outgrew its partly shady zone.  Definitely worth trying again!
Other plants that are semi-hardy will be treated the same way.  Crocosmia wintered well that way last winter and were an amazing show of brilliant scarlet flowers for months!  The gladiolus have been dug and will die back down to their corms.  I will tuck them in a window box buried next to the foundation and cover them with frost cloth.
The roses and the hydrangea will not be overwintered until they've gone completely dormant since they fight to grow until the killing frost has come a time or two.  Trying to overwinter these too soon will mean their death.  They will refuse to go dormant and chew through their stored up food or send out new growth to get zapped by the nearest cold snap.  I overwinter my potted roses in my compost pile.  I have pictures from last year and will do a separate post on overwintering these two rather particular flowering plants.  Roses, Hydrangeas are described separately (click links).
Ecclesiastes 3:1 To everything there is a season, A time for every purpose under heaven.
I just try to bend it a little.