There are ants on my peonies," she said to me.  "I've heard that peonies need ants for the buds to open.  Is that true?"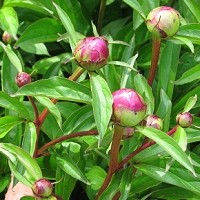 When I worked at Home Depot, I could guarantee this query at least a dozen times each weekend that the peonies were in bloom.  Gardening has its share of pieces of Folk Wisdom and this isn't one of them.   
Peonies can open perfectly well without ants. 
The ants are there to take advantage of a reliable dinner.  As peonies open, they secrete a sweet sap along the edges of the petals through specialized cells called nectaries.  Many flowers have nectaries within the flower to encourage pollination.  Some plants like Trumpet Creeper, Hibiscus, Elderberry, and Willow have extrafloral nectaries.  Peonies have their extrafloral nectaries along the edges of the buds.  As these glands exude the sap, it's the equivalent of the ice cream truck driving through the neighborhood.  Every ant and its uncle come scurrying for a sweet treat.
Should you get rid of the ants?  Many soft-hearted and environmentally conscious people say "No."  The ants keep other insects or foraging animals from damaging the blossoms.  I am a bit more pragmatic.  If the peonies are close to the house, I think beyond peony season.  Frankly, I don't want ants building expansive communities that will become a hungry mob of marauders turning to my kitchen with the inevitable rainfall that occurs when peonies are in full bloom.  I also don't want to bring ants into the house with my cut flowers. 
As long as they stay away from my house, I say "Hope you enjoy your meal."  The minute they head toward my home they'll encounter a barrier treatment of insecticide that will kill them.  The peony will have served as kind of a last meal.  The smart ants will learn to stay outdoors and find all that nature can provide.  The insolent ants will meet their Maker.
To keep from spraying my peonies with insecticide, I submerge the newly opening cut blossoms in a tray of water until the ants float to the surface or I spray them with a gentle shower to wash the ants off with a hose before bringing the peonies inside.  A gentle upside-down shake removes excess water and I can enjoy my floral arrangement without inviting unwanted houseguests.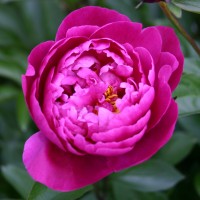 Peonies enjoy full to part sun, are heavy feeders, and come in singles and doubles as well a variety of colors.  They can endure in the same location for decades and reward you with their beauty in the spring and their durable shrub-like foliage until the fall.  They require some additional care with respect to planting depth and are best divided in the fall in order to bloom happily.  They are some of the oldest cultivated plants for good reason—they are truly among the masterpieces of May.