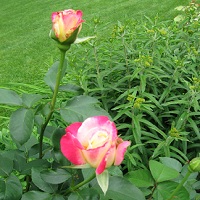 Roses are among the most beloved plants. Matchless for their variety of colors and fragrance and forms, roses have a beauty that makes their persnickety nature part of their charm. Roses need special pruning and fertilizing and insect prevention, but they also need strict attention to their fall and winter care. (Please note update at the end 5.3.2013)
Last year, I took some photos as I was preparing to overwinter my rose. My 'Double Delight' tree rose is even more demanding with regard to its care than bush roses I also grow in pots.
Here is how I overwinter my tree rose:
Step 1: Cease fertilizing roses 2 months before overwintering. The first killing frosts in my area are mid-October so an August 15th deadline gives two full months for my roses to wind down and become convinced that it's really OK with me for them to go dormant for the winter.
Roses, for all their complicated care, have a strong desire to grow even into the frosts. No fertilizer, no pruning, and full exposure to cold temperatures/frosts tell them that they need to rest now. While they're in their two-month cool down, I dig a trench in my compost pile (which is more like a pile of leaves than a true compost pile). The trench will need to be big enough to accommodate the tree rose laying on its side and whatever other roses I've been growing in pots.
Step 2: Once the hard frosts have hit a time or two, I can safely prune them. The leaves and flowers often have a dull purplish tone to them showing that they have been exposed to sufficient cold. Roses already know it's time to shut down for the season, so when I prune them for the winter's covering, they just accept it and don't rebel against it by trying to grow some more. They are obedient roses. Tree roses get pruned differently than a bush rose so my photos will demonstrate their winter care.
All non-landscape roses have a "graft union" (place where the pretty rose variety was plugged into the sturdy root stock). For bush roses, it is located at the ground level and this graft union can be covered with soil or mulch. I'm particular to pine bark mini-nuggets because they still pour when frozen and stay put during the winter. The added benefit is the way they become part of the spring/summer mulch when I wash them away from the graft union.
Tree roses are different. A standard form or tree rose has a root zone, a tall stalk that's part of the rootstock, and the graft union is at the top of the root stock. Since the graft union is what needs protecting, covering the roots with mulch does no good whatsoever for preserving the graft union.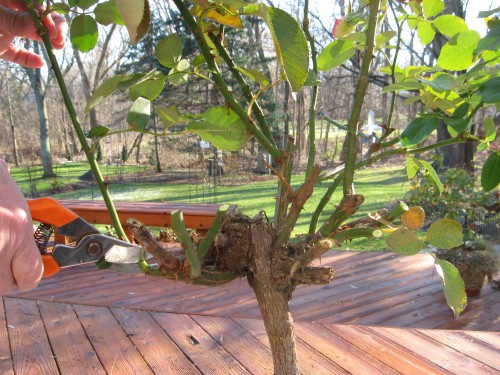 The knotty looking section with stems coming out is called the graft union. With bush roses, I'm content to leave the canes about 12-18 inches long. Not so with tree roses. I clip them back to about 3 inches from the graft union. Otherwise the new growth in the spring will be long and so heavy that the weak juncture will break off easily. So I try to keep the spring growth compact. It begins in the fall as I cut away the dead canes completely and the green canes get clipped to approximately 3 inches in length. I use sharp pruning shears that have been treated with bleach so I don't contaminate the rose for its winter rest.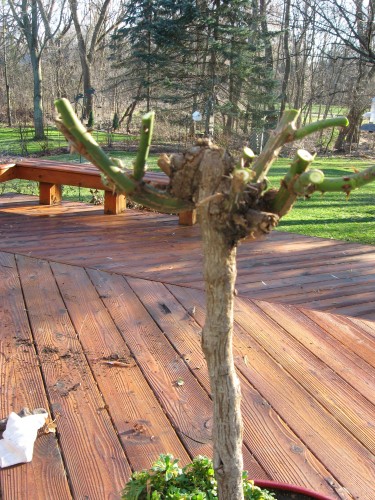 Step 3: Once it is pruned, it looks very naked, I know. But it will have less to try to maintain through the winter. It may sound strange, but plants stay alive through the winter even as they are dormant. If you have a large plant to try to keep alive, it will expend more of its stored food trying to keep it all alive…and it may end up killing the whole plant in the process.
You'll notice I removed all the leaves which–at this point–will only be a source of disease inoculum for next year. Even so, there may be some organisms on the canes, so I usually do one last spray of insecticide before wrapping it up.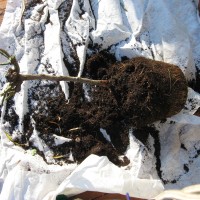 Step 4: Wrapping the rose for winter storage (left).
While I could just bury the rose in its pot, I prefer to take it out of the pot so rain and melting snow can keep the root zone hydrated. Both the roots and the graft union need to be protected and with a long stalk, it risks being broken in addition to frozen. Therefore, I take the extra step of wrapping it in frost cloth. Both air and water can permeate it, but the rose will stay substantially cleaner and will make it less attractive for mice than if it were just buried among all the leaves. Furthermore, wrapping the whole rose in frost cloth helps to make its removal in the spring less likely to break anything, whether the stalk or the graft union/new buds.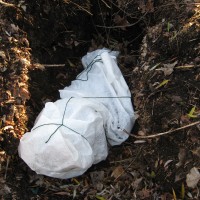 Step 5: Cover the wrapped tree rose in the trench with leaves. Of course, the trench I've already prepared in the back and the neatly wrapped rose don't look too good in the photo with both roots and graft union ready to be covered. Should the police wonder what I'm burying, we could always open it to reveal nothing but the rose inside. Last year my son had a few laughs at my expense as we went out and buried it. But, I got the last laugh this spring when I unearthed it.
Step 6: In the early spring, I unearth my tree rose and place it in a sheltered spot. If it's too cold outside still, I'll put it in the garage. I don't want to leave it in the compost pile and have the leaf buds begin to "break" in the dark. But I also don't want to have gone through significant effort to overwinter it only to have it zapped by a late winter cold snap. Unearthing it while it's still dormant will allow it to develop naturally as the weather improves. I pot it up, water it, and as the daylengths increase and the buds swell and break, I begin to fertilize it again.
My "Double Delight" tree rose began to experience bud break soon after unearthing/repotting it and it produced blossoms that were absolutely stunning this year. By way of note, the stalk will not get taller. The height you buy it is the height the standard (stalk portion) will remain. The growth will be in the canes that arise from the graft union. Bush roses can be grown in pots and overwintered the same way or planted in the ground (in their frost-proof pots) for the winter. Landscape roses such as "Carefree Wonder", many rugosa roses, "The Fairy", drift or "Knockout" roses do not need this special care since they are hardier and not grown as grafted plants. If you love roses but hate the maintenance, these "own root roses" are good options to try.
But for those of us who desire tree roses, we don't mind that they are higher maintenance plants. These jewels among jewels of the garden are well worth the extra care they require. There is something marvelous about a reward of such beauty after a long labor of love. It's kind of a nice reflection in nature of the same beauty and reward of the Christian life well-lived.
==== Important update (5.3.2013) For the first time in the decade I've been overwintering my roses this way, this year my roses were eaten by voles (a type of mouse). Each of them looked like they had been put in an electric pencil sharpener and gnawed to a point. I am attempting to root them (since there was remaining root stock below the graft union). I'm not sure how well that will work since the bark appears to have been stripped all the way to the cambial layer, but I'll keep you updated.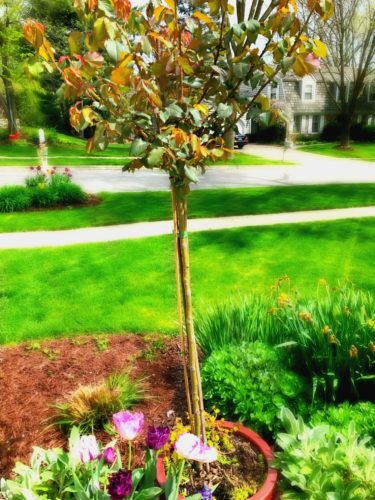 (2013) So this year when I overwinter my roses, it will include using hardware cloth (wire mesh with 1/4″ holes) to keep the voles from breaking my heart again next year. As I wrap them in hardware cloth, I'll include photos of that too.
That was ineffective as the voles found their way in, so last winter (2016-2017) I kept it in the garage. I watered it periodically with cold water and kept the lights on in the garage to provide a little heat on the coldest of nights. The result was a resounding success. Cutting it back just as shown in the earlier photos, I placed it outside after danger of frost (putting it on the front porch tucked next to the house, if frost threatens). Here is how it turned out. It will be spectacular when it blooms. I also did some containerized bush roses that way and they're every bit as ready to burst into bloom!