The days are getting longer; the angle of the sun is warming the earth; the snow is starting to melt; and I'm impatient for spring.  I am reminded of Genesis 1:14  where God said, "Let there be lights in the expanse of the sky to separate the day from the night, and let them serve as signs to mark seasons and days and years."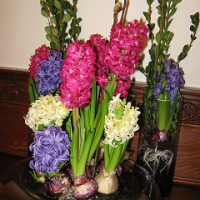 There are many things God has graciously given to mark the seasons aside from the moon and sun and stars.  I look at the swelling buds of the maple trees and the dripping from the branches and I can tell the sap is running.  I look at the soil where the snow has melted and how it's telling the robins that breakfast is served.  Even today's rain instead of snow is a happy reminder that signs of hope are a gift from God.  Spring is that way.
It's early March and my hyacinths that I brought in from their cold treatment are in full bloom, filling my kitchen with their lovely fragrance.  I wonder if my blooming gardenia is jealous.  The tulips (that I also cold-treated for 12 weeks) are slower to bloom.  I don't mind since it is a progression: hyacinth, tulip, and then I will cut daffodils buds outside as they mature for bringing indoors.
Indoor checklist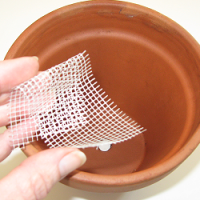 I'm continuing to start seeds indoors.  I try not to start them so early that they become leggy before planting season.  Knowing the last frost date for my area of USDA zone 5 is May 15, I back-calculate to determine what seeds to start on any given week. 
Also indoors, I'm beginning to pot up cuttings of my Martha Washington geraniums so that they'll be blooming happily from April through Mother's Day until the weather begins to get hot.  I use fiberglass drywall tape to cover the hole in the bottom of a pot, add soil and pot up the cuttings.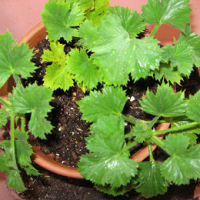 Martha Washington geraniums are cool season bloomers, but will continue blooming into the summer if sheltered from heat or full sun locations.  I took cuttings when I brought them in last fall which served 2 purposes: (1) it made the mother plant smaller and (2) provided ample stock for multiplying quantities.  I do the same with coleus which are easily started from cuttings.  I grow stock plants through the winter under lights, take cuttings for new plants, and harden them off when planting season arrives.
Also on the early March checklist is deer prevention. 
The winter has been long for the deer and they're hungry.  There is still food for them in the woods behind our house and under the bird feeders, so they don't need to eat my 'Cardinal' red-twig dogwoods, or my Spiraea.  Shortly my tulips and hyacinths outdoors will begin emerging.  It's better prevent deer now—to nip their eating in the bud—before they nip my garden's flower buds down to the ground.  Train deer now and you'll reap benefits all season long.
Beginning now, I use Tree Guard taste repellent (available online) on anything I don't want the deer to eat.  It's highly bitter and cannot be used on edible materials, but it's always perfect for ornamentals.  It works longer than any of the other taste-type deer repellents and can be sprayed directly on the plant.  As soon as the snow melts I will put Milorganite on the soil surface of flower beds as an odor-type repellent.  As with any fertilizer, I don't apply it over the snow so that it won't pool in low spots when melt occurs and burn the vegetation.
This combination of the two (taste and odor repellent) works better than either one alone.  Many old wives tales and folk remedies are floating around the Internet, but this approach has worked consistently for me for more than a decade.  Deer live in the woods behind me and I stick with what I know works.
Yard Cleanup
I love seeing the days get longer and knowing the ground is warming from the strength of the sun's rays.  Actually, it's just nice seeing the sun shining—it's far too infrequent in Chicagoland winters.  I try to make hay while the sun shines…or at least clean up the yard.  Among my current yard clean up tasks are picking up sticks, pruning the winter damage that my shrubs sustained from the incredibly snowy winter, gently raking up the leaves and other debris accumulating in garden beds during the winter, and removing garden grass that always seems to pop up out of nowhere.
Two things I do not do: 
I do not prune spring-flowering shrubs except to make a clean cut on already broken branches.  If azaleas, rhododendrons, lilacs, mock-orange, forsythia, flowering quince, viburnum, and select hydrangeas, etc. are pruned now, all the flower buds will be removed and you'll have shrubs with no blooms. 
I do not work the soil in the garden until it thaws and dries enough so I don't ruin the texture of the garden.  The soil will feel like moist chocolate cake when it's ready to be worked.
Thanks for enjoying my garden with me!  Check back often.  My garden updates will become more frequent as the season progesses.  And please feel free to leave comments or ask questions.  I welcome hearing from you.